With passenger comfort, privacy and safety in mind, Embraer is presenting a semi-private configuration for ERJ 145 jets as an aftermarket solution, which includes premium seats for the utmost comfort to passengers. The conversion will be possible through a supplemental type certificate (STC), currently under development by Embraer, and all ERJ 145 are eligible to be converted to a semi-private aircraft.
"Embraer constantly assesses customer needs to offer innovative solutions and support new market requirements, which is why we developed the new semi-private conversion," said Marsha Woelber, Head of Worldwide Executive Jets Customer Support & Aftermarket Sales, Embraer Service & Support. "We have identified this opportunity given the growing number of aircraft with semi-private interiors, which have doubled in two years, from 21 in 2019 to more than 40 in 2021. With the pandemic, we believe this number will increase even more."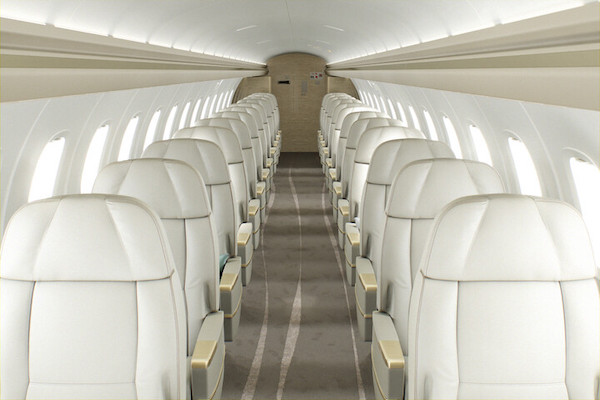 The 50-seater ERJ 145 aircraft can now be configured from 16 to 28 premium seats with one seat configuration on each side of the aisle, increasing social distancing and comfort. Other features are a flat floor and the removal of the overhead bins, which widen passengers' personal space. The full conversion process can be performed at Embraer Owned Service Centers.
Embraer is targeting passengers who usually travel first class and may require more suitable flight options. The ERJ 145 semi-private jet allows these customers to avoid main crowded airports and save time, providing a premium experience to the passengers who will board from and disembark at a private terminal.
As a global company with more than 50 years in aerospace, Embraer delivers the ultimate experience in business aviation through aircraft that feature disruptive performance, comfort, and technology. Its current portfolio consists of the Phenom 100EV, which offers the business aviation experience in its purest form; the Phenom 300E, which has been the best-selling light jet for nine years in a row; and the Praetor 500 and the Praetor 600, which with best-in-class flight range, are the most disruptive and technologically advanced midsize and super-midsize business jets, capable of continent-crossing and ocean-spanning missions, respectively.
Embraer is always improving its products with the main goal of providing innovative solutions to increase passenger safety and provide a premium flight experience. In 2020, the Company released a Service Bulletin that allows ERJ 145 operators to install high-efficiency particulate air (HEPA) filters, which capture 99.97% of airborne particles and other biological contaminants, such as bacteria, viruses, and mold spores. This technology is also available on Embraer business jets, with HEPA filters also made standard on all Praetor aircraft.