First, it was the meeting with an amazing livery design by Happy Design Studio, then I had the opportunity to meet the author - Didier Wolff. And then, more and more of his creation' discoveries. To me, he's an exceptional Créateur Haute Couture, as we say in French… Designer of Haute Couture in the Sky, creating an amazing beauty, the biggest of flying art format.
I wanted to find out more on his way to such profession, his background, his inspiration, his motivation… As I am curious to find out, to learn, I started to ask questions. I am deeply impressed, touched by the simplicity, personal investment and open mind of Didier!
Before you start reading, I must say – you will be surprised. The road was so far from being easy and evident. It's so worth to take the trip with Didier Wolff, so worth to make your own discoveries, to find your own answers. So please welcome… Mr. Didier Wolff, the owner of Happy Design Studio
1980. I often say that I studied at the National School of Decorative Arts in Strasbourg. It's not wrong, but it turns out that I was ejected after a year. I hoped to freely create there, but I discovered a too academic system in which I felt too much cramped. I was probably too young too, 15 years old and too much of temptations, distracting me to the point that I was drying classes and fled a passion that had suddenly turned into constraint. But the following year, after having matured a little, I retried the entrance examination and was accepted for the second time by this prestigious institution. Although, sincerely, the resolutions that I used to re-motivate myself and curb the discouragement of my parents did not change anything: the same causes producing the same effects, after a few months I finally gave up definitely, having however spared everything that was accessible to me within this establishment. Looking back, I must say, that boredom and pain, (in the prison sense of the term), already reigned during primary school where, focused on my desire to escape, I dreamed watching the planes through the window of the classroom. One of the few disciplines that enchanted me was geography because I could color maps and legends, approach the relief and elevations, look around the coast and memorize the shape of the Continents. I liked to say an altitude and a name on the snow-capped peaks and so my maps would be even more enjoyable to see, I was adding small boats or fish on the oceans, trees and animals on the forests. I was then in 6th class and in love with my teacher, which occupied the remaining part of my thoughts …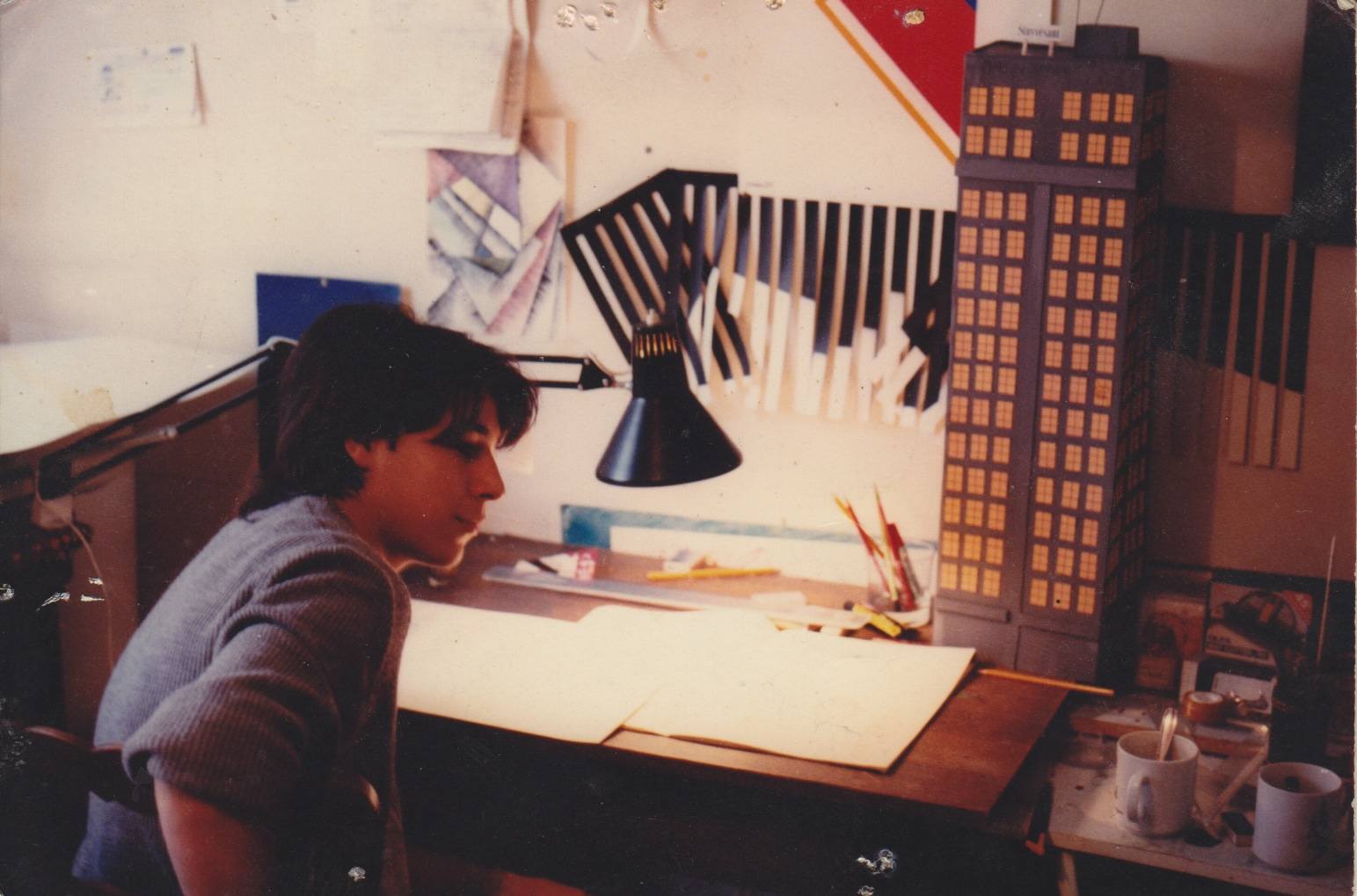 To tell the truth, I think all that started back in 1971, when I was a very little boy, when my father, who witnessed my passion for painting, painted one of the walls of my room in white. His fortunate intuition allowed me to express myself on a giant panoramic format and to think big. The early passage from small world of A4 border suddenly gave way to vast territories (note that first I wanted to become Indian or trapper). I must add that I was specialized in Legos and especially weirs, with clumps of land and stones to make it tight, the result seemed splendid!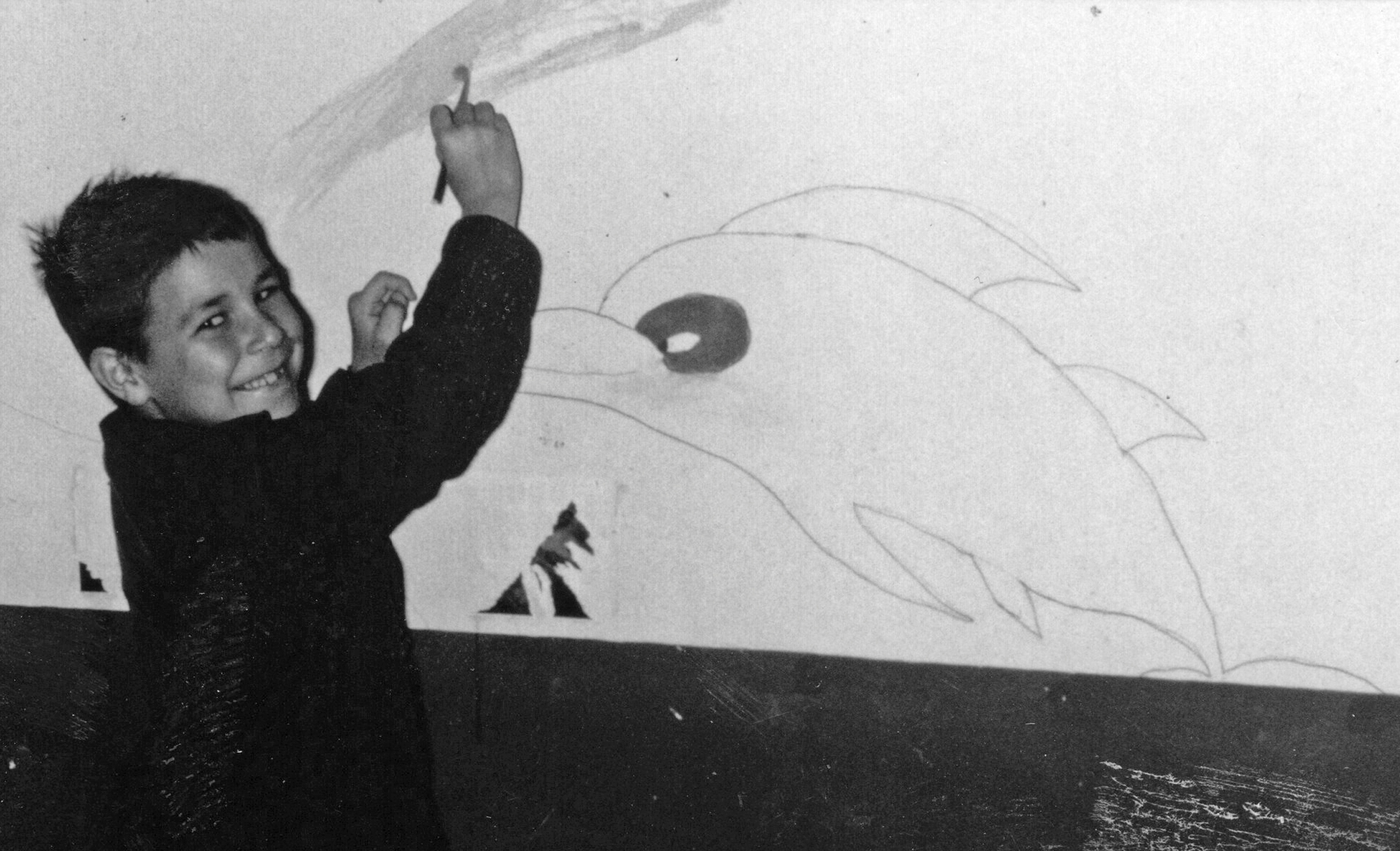 Thanks to my adoptive parents who have lived in Houston,I discovered at a very young age the exploits of the American astronauts through the 8mm movies that they had brought back to France. These films were dumb but so fascinating! Cousteau's "The World of Silence" is another of these changeless visual references, I also think of the films of Maurice and Katia Kraft, famous Alsatian volcanologists who described their work as if they were witnessing the creation of The World live. Three other pillars filled my training: The reading of my grandfather's National Geographic and old Larousse dictionaries (2.8Kg each!), Dotted with engravings of a breathtaking finesse, I discovered the anatomy by leafing through the pages dedicated to eroticism, forgiveness, to sculpture through the ages. Finally, my bedside book was "Best word book ever" by an extraordinary American illustrator Richard Scarry's. Of course, there were Tintin's, but Scarry's work from America had something grandiose, it was huge and filled with hundreds of small watercolors depicting animals of all kinds that consisted of large frescoes depicting life. in every detail, (A drive in the country, In the city, Boats and ships, etc ...) Every thing, every detail, as small as it was, was described with a word in English. Sometimes I had a dazzling activity on Sunday mornings, when my father, a chemist like my mother, took me to his lab located on the fifth floor of the great tower of the CNRS in Strasbourg. Under his supervision I blew glass at 1400. °, sometimes trying to create small animals that broke most of the times. In this very lab he opened at my request bottles of mercury that flowed between my fingers, or mixed under my eyes mysterious liquids that were suddenly changing colors.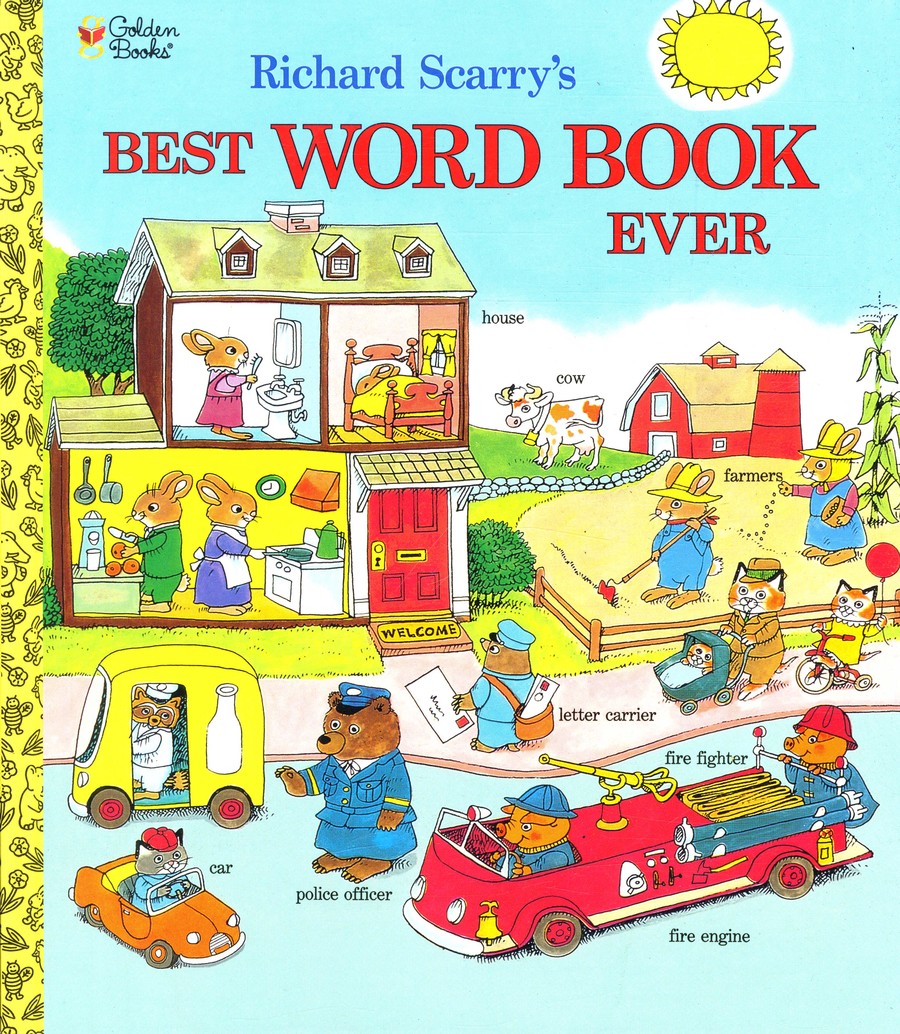 Despite seemingly very scattered centers of interest, painting and drawing have been omnipresent in my life. I have often considered these multiple tracks as so many straggling elements, however, today, the links of attraction between all these magnets are perfectly legible and logically arranged in the scenario of my life. I did not just explore these tracks, I followed them for a long time, patiently, with energy and determination. With instinctive methodology of the trapper I wanted to become. Looking at what entity could match the fingerprints I was pursuing. Most of the time, they led only to a kind of roundabout animated by a kind of perpetual movement, pendular and monotonous, ironing inexorably by the point of origin. The goal was above all to master the subject chosen and when it seemed to be the case, to live thanks to that. Meaning it was necessary to convince, to know how to sell. Very often at that point everything collapsed. The best result was to keep going for some time. I had to find My Way. I spend thirteen years in Paris, thirteen years of theater, film and writing, exploring and recklessness. I was many times in Africa, I passed on a multitude of events looking to fill pages.
Clue N ° 1. In 1997, British Airways decided to change its image, hiring for that Newell & Sorell agency. About fifty projects of artists representing their culture or their nation were selected: (an Eskimos, an Indian, an Aborigine etc ... In my eyes, this principle was breathtaking and I envied these artists whose works were exhibited on the aircraft tails of the famous company, the very idea that these works fly excited me to the highest point .. Without waiting and without being invited, I started a period of intense production resulted in presenting thirty drawings to this English agency. My projects were unclassified, I returned empty-handed.

Clue N ° 2. I passed my basic pilot license for single engine planes at Flying club of Alsace, where Saint Exupéry himself learned to fly. I dreamed above all to fly over Africa and its deserts, I imagined to bring help, carry pharmaceuticals… I also dreamed of flying a multicolored seaplane, to land on a lake, to turn off the engine and to take out a fishing rod.

Clue N ° 3. For years, as a constant reminder, I rediscovered at the bottom of my projects I had imagined for British Airways. Back then industry was in constant production of white objects and uniform, again and again: Coffee makers, bathtubs, cars, sinks, tiling and also planes!

The spark came in 2009. I taught plastic arts and gardening to unusual children with behavioral disorders, such as autism, trisomy or dyspraxia. Their very personal ways of expressing their raw thoughts, without any filter, their positioning related to their ideals literally imposed me to give me means to make my talents grow, to take my place. I had to find a way to create aircraft livery designs! We only live once and It was impossible to imagine myself at 92 looking back and saying: You should have done it! As an evidence, I decided to sell my apartment in Paris to finance the start of this activity. The activity which was totally unknown, I decided to be free, without middlemen or authorizations, trusting only my own intuition. My idea was not to decorate the tail of planes as British Airways had done, but to customize entire planes and why not private jets or fighter planes, but how? First, I learned at length to master 3D, rediscovering my creations from new angles and this only increased my desire to see this dream become reality.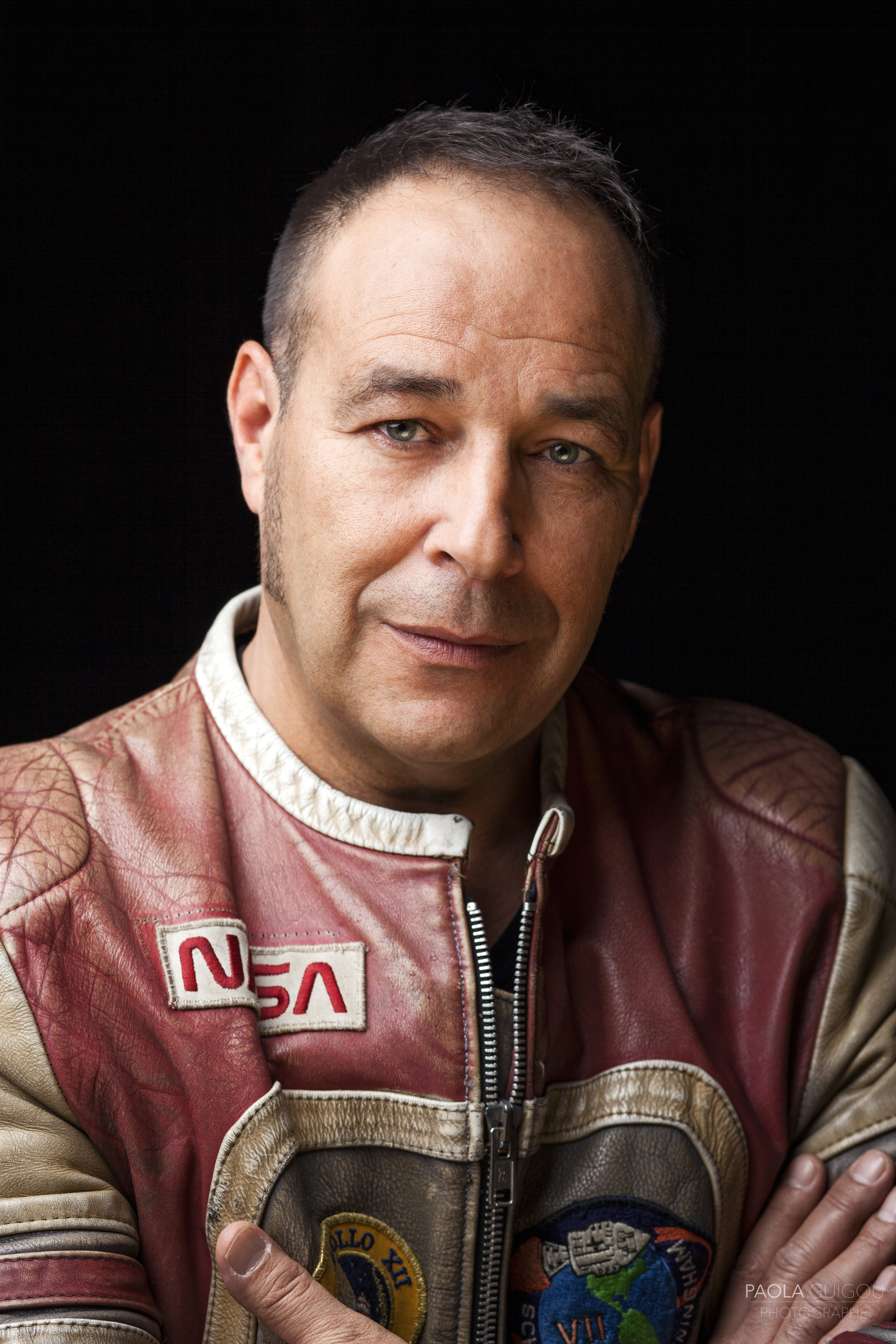 Persuaded that the Middle East would be culturally sensitive to my concepts (3D), I spontaneously wrote a hundred or so emails to aeronautics professionals randomly found on specialized sites, explaining my approach and proposing to meet them. I had no answer, despite that I went to Dubai, to see, to feel. Also because I know that Providence takes over when someone is tenacious and the goal is indelible. After a week spent there, we had to face the facts: I was tanned, but nothing happened. While I was planning my earlier return, Providence took me to the FBC, the French Business Council in Dubai. I entered spontaneously. The reception was extraordinary. I spent most of the afternoon with Fabienne Lucas, the director of this structure, specializing in the establishment of French companies in the UAE. She convinced me that I had arrived at the right place at the right time. I got the green light, my intuition was confirmed, somehow validated. What a joy! It is in this context that I created my company: Happy Design Studio. In the meantime, I registered for the Dubai Air Show, a reference air show and I managed to convince a Toulon, PMV aeronautical engineering company, to become my partner in this adventure. Thanks to this official support, I was no longer alone but supported by a partner of choice and completely reassured me that my artistic vision was now based on the expertise of aerospace industry' recognized professionals. I signed my first contract for the customization of a Zeppelin: "Spirit of the Emirates"! Thus, the Middle East has become in a very particular way, a land of fondness, linked to the start of this extraordinary activity
In 2010, I participated in 3 other shows in Bahrain in Dubai and Geneva. The signing of a commercial representation agreement with one of the largest private jet fleet management companies in Saudi Arabia, but the particular Middle Eastern rhythm imposed me all-weather patience. This valuable learning gave positions and strategies more appropriate to the Arab culture (walking in the sand muscle thighs). My renewed participation in trade fairs has activated many contacts, including the aeronautical press, which showed a great interest in this new activity. Ever since the press is my principal Ambassador (270 articles to date).

In July 2010 DAHER SOCATA, (manufacturer of turbo-propelled aircraft, inheritress of the myth of the brothers Maurane Saunier), organized a design contest, dedicated to the centenary of the company. The goal was to create a special hundred-year livery for the TBM850, the fastest and most powerful of its category. There were 40 projects presented, I won the contest and my design was chosen. Three months later, the first aircraft bearing the colors of Happy Design Studio flew over the Pyrenees; it was be produced throughout 2011 on the chain of the manufacturer based in Tarbes. It was there that I made my classes and understood what was the professional conscience and thoroughness is. Since then, I have decided to systematically supervise the painting of my clients' planes, that is to say, to guide and orchestrate teams of painters, without taking a risk that a line or a curve is reinterpreted in a way other than mine, so that the result is perfectly identical to the project validated by my clients. Since that time I realize a "making video" for the painting of each of my planes because it is a very concrete way to share not only my passion but also my know-how. Like those I had watched during my childhood, these films are silent, but the music that I bring the rhythm as stories.

Today my showcase is very rich because since 2010 I realized Olivier Dassault's Falcon 10, a Mirage 2000c for the 1/12 "(Nato Tiger Meet) fighter squadron, two Rafales C in order to celebrate the 30,000 hours of cumulative Rafales flights on 113 St Dizier (Rafale Solo Display), an Airbus A300-600 for Emirates company "Maximus Air", number of concepts on Bombardier Global Express XRS, Legacy 6OO, and Eurocopter EC 145 for Brabus Private Aviation.
In 2013, BOMBARDIER Business Aircraft, chose Happy Design Studio to create the new visual identity for the entire Learjet, Challenger and Global range. Then it was the turn of an American company (Wheels Up) to ask me for a design of its Beechcraft King Air 450 (100 copies planned!) The following year I realized an extremely complex decoration on a Bombardier Global 5000 for a private customer. Happy Design Studio won the Yacht & Aviation Design Award, the International Design Award, the Good Design Award and received a special mention at the German Design Award. Two years later, thanks to a Global Express XRS "Carboneum", I won the European Design Award. I am not participating in air shows filled with "men in black", I could mimicry have had the desire to look like them but in the background I must be careful not to feed my pride what can happen very easily in this kind of gathering. I prefer to work in my Studio in Strasbourg and continue to create without any unnecessary pressure, 3 or 4 planes per year maximum. It allows me to live from my activity without being a it's slave, to be rather free during weekends and to have a private life, to feed my imagination of everything that I am passionate about from Leonardo da Vinci until the pop art, from Santa Maria to Saturn V.
This is easy to say, because I realize how lucky I am to have quite extraordinary clients. I am not looking to expand and open branches around the world by employing other designers who would work for me and whose works I would sign, I'm not made for that.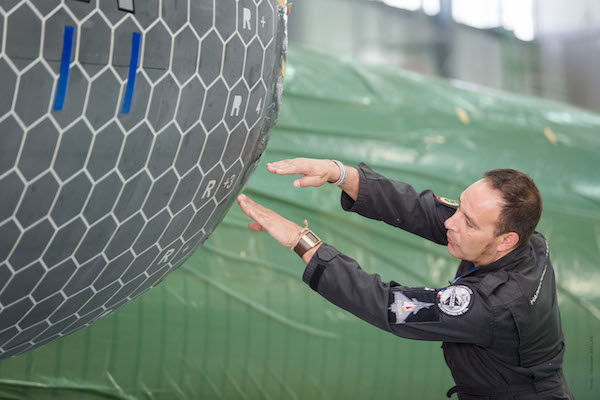 Since 2016, I had the opportunity to customize an F16 for the 1st Belgian Squadron Stingers, but also a Learjet Legacy 600. Currently I'm working on a Falcon 900EX that will be painted in France in May, followed by a Cessna Citation X ... My plans are to leave my Strasbourg office more frequently and for much longer periods. I wish to travel and study abroad, probably in Japan, to immerse myself in this culture of reference in the Art of balance and proportion, to take my time.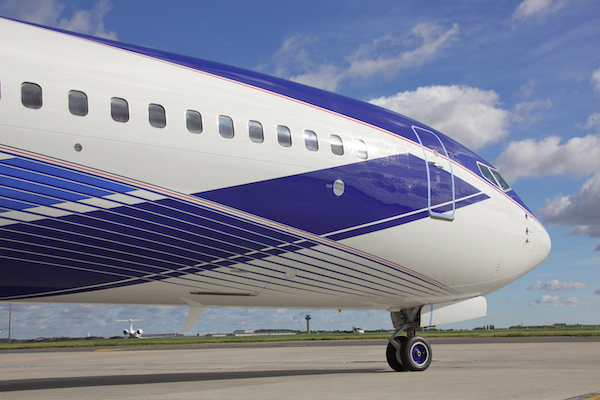 But to make myself heard and share my creative vision, I must continue to make many efforts. The entire aviation industry focuses on performance, safety and comfort, but neglects the appearance, at least relegates this step at the end of the chain. Even today, for many companies or manufacturers, the livery is secondary, it is often the last issue to be dealt with and when a customer has an unusual request concerning the general external appearance of his aircraft, the answers are often simplistic. Everything unusual breaks the very standardized approach. As for the artistic point of view, it is a bit of a change in the continuity: Most companies and manufacturers observe and imitate each other because they try to please everyone. In this context, their relentless pursuit of calibrated identity inevitably provokes a form of aesthetic and visual standardization. It means a very corporate and particularly shy production identity. As a musical instrument is tuned with the ear and by strict rules, I grant my designs in the same way. Aware that the outcome must be the result of a totally mastered three-dimensional vision. The goal is simple - beauty. Without this absolute will and without this obligation of result, then a design, a personalization, can be a total dissonance for the eye and a nightmare for the memory. It is often too late when you realize it. Indeed, and because it is a sort of conditioned reflex, most of these aircraft designs are entrusted to communications agencies that treat this subject as any other form of packaging.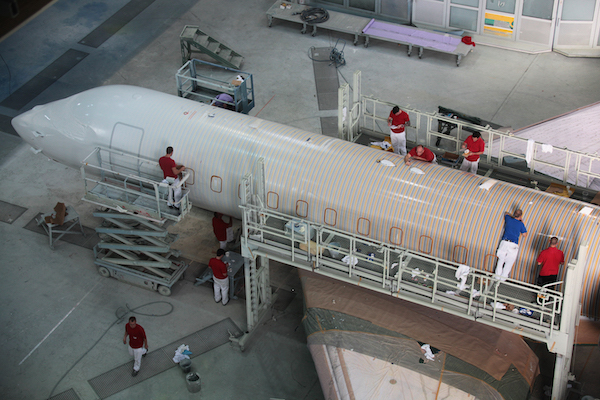 Today, and more than ever, I dream of blowing up the barriers of technical and artistic constraints in order to attract industrialists and audacious owners. Beyond performances, I hope that the aeronautics industry will reconsider the dream and wonder as a starting point for innovation. In this world deprived of meaning, beauty has its place and I must say, the Sky is the most beautiful showroom.