The frontmen ofIron Maiden's Bruce Dickinson will sell private jets. Specialty shop will be opened in the Harrods, London.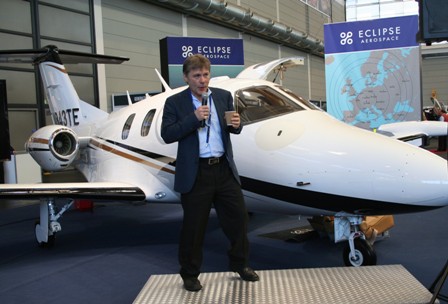 There will be six-seater business jets Eclipse 550 for sale. The approximate cost of each aircraft will be around 2.2 million pounds. They are exposed until the end of August. Potential buyers will be able to receive in-store consultation of upplier company experts. The musician is one of Aeris Aviation leaders.
"There is another similar engine, which could be compared with Eclipse in terms of cost and economy. It can cover distances of one thousand nautical miles, which makes it ideal for Europe ", - said musician, who is also a pilot of civil aviation.
Bruce Dickinson along with the music,developed his career in aviation. He decided to become a pilot after he temporary quited Iron Maiden in 1993, because he was not confident in the continuation of a musical career, and was afraid of becoming unemployed. The singer got a pilot's license in the early 1990s, and in 2007 he was appointed captain of civil aviation. Musician quite successfully combined the vocal and the pilot duties, often piloting their aircraft during a tour world tour.