It is a usual story nowadays - people are working together, creating and realizing new projects on a distance, using all the benefits of technology without meeting in real even once. Sometimes it is just great to step out of this traditionas scheme and really get know better your colleagues. For many people when you say aviation - first association will be pilot, captain. It is our pleasure to share a part of our discussion with a Captain, who created a trust-worthy and respectable air crew network - meet BenRosinger.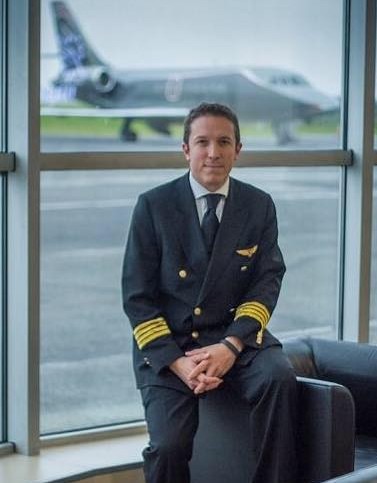 Q. What was your personal way to aviation industry?
A. Since my childhood, I am lucky to grown up in an aviation family. First with my parents, with whom I travelled around the world and they gave me the love of discovering new countries and embracing different cultures. Then with my father, with whom I flew next to, he gave me the passion of flying. And with my aviation mentors (uncle, chief pilots, colleagues) with whom I learnt about the pilot job and they helped me to build my career with keywords safety, efficiency, trusty.
Q. Will you agree if we say that pilots and crew are special people, mostly in love with the sky who needs to fly?
A. Indeed. We are so passionate of the sky, otherwise it's impossible to stay in this industry. It is hardship to leave families and friends behind with the long, odd duty hours we have to endure. It is challenging to both our minds and bodies. Yet, it is all worth it when we work at our amazing office. I am still blown away by the magnificent engineer work behind, as well as the captivating scenic view: the joy of a sunset, the dancing aurora and more. Also to fly into challenging airports is really a satisfaction where no other job can give. Everyday it makes me appreciate more of my job, the nature and the teamwork we have.
Q. How the idea of Flight Level 470 came?
A. Flight level 470, FL470 indicates the aircraft's altitude is at 47,000 ft. Normally jet aircrafts cruise between 37,000 to 43,000ft so with us, we aim for a bit higher but not yet to the maximum level we can fly, meaning we still have areas to expend. Initially, I have created FL470 to discuss operational matters and job offers in good spirit among a few of us. Day after day, members request to add new Falcon pilots: Captains, First officers, Instructors and Test pilots. With our professional spirit, now FL470 has grown to 560 recommended trust-worthy pilots. And our platform works very effectively and provide also crew to private aviation companies and private operations. With numerous pilots around the world FL470 can give a fast answer to respective clients' requirements.
Q. Your vision of future development and some goals for 2020?
A. In 2020, we will continue to do more with the success we gained, to thrive and keep the high standard relationships we have with OEMs, such as Dassault along with all the worldwide major operators by answering their crew requests. We will participate actively in major aviation events as we did in 2019, to keep up with this fast paced industry. Moreover, we are already expanding our network to Bombardier Global pilots and VIP Cabin Crew in this new year. With FL470, we aim to bring professional and positive people together. We launch Falcon pilot related events, survey and campaign from time to time, we are always working hard to update ourselves with Aviation news and opportunities. Apart from embracing the diversity in our profession, like the photo contests we hold regularly. We are also focusing on how to be more green, as well as to give back to our society. These are big on-going projects to us in the coming years, we hope more charity work can be accomplished, including establish ways to compensate, to fly more environmentally and sustainably in Flight Level 470.