Sometimes you get a hello from previous century... This is the case now, when thanks to Līvija Baumane-Andrejevska I got this fantastic piece of description of an airtravel from September 1920.
Here is the precise text, which I find so very enthusiastic and inspiring...
Femina
Edited by The Lady Diana manners
On the water yet in clouds
It is not a whistle of a train or streamer, not even a "let go" of the aeronauts, but the starting of propeller, and an aviator is ready to leave.
Paris-London, take your places!
Through the amusing cabin little window is seen the smiling face of Princess of Kaparthala.
One can imagine from the gesture of mechanic the whirring and trembling of the motor impatient for the coming flight.
In two and a half hours this modern "Indian mail" will have covered the country of Picardy, the waves of the Channel, the Thames, and will arrive in London, without the smoke of the engine or the heat from the boilers but bringing all the freshness of the open air.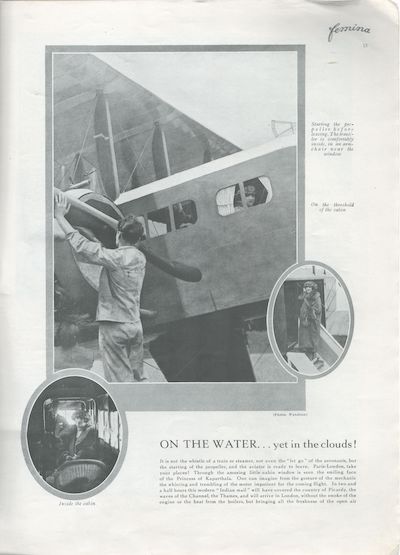 Would you agree that the advertising can be so touching and fine?