The U.S Embassy in Latvia has donated two EpiShuttles to State Emergency Medical Services (Neatliekamās medicīniskās palīdzības dienests). These are the first EpiShuttles to be stationed in Latvia.
Minister of Health, Daniels Pavluts, received the EpiShuttles on behalf of the Latvian government.The EpiShuttles will be deployed in ground ambulance to transport critically ill Covid-19 patients between hospitals to provide medical care.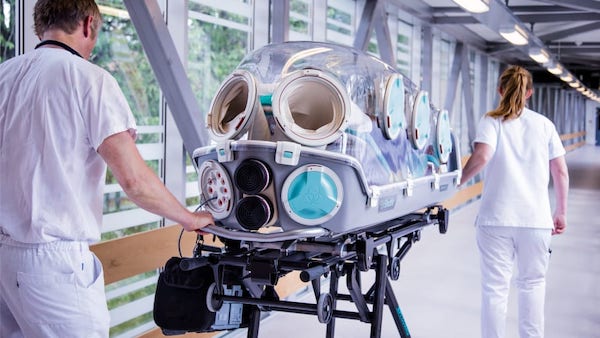 – The EpiShuttle makes transport safe, reduces cost and increases operational efficiency of patient transport. From the ongoing pandemic, we have learnt a lot about emergency preparedness and the crucial role of safe patient transport, says Ellen Cathrine Andersen, CEO of EpiGuard.
The EpiShuttle is in use worldwide, among air forces, organizations, ground ambulance services, private air transport companies and hospitals. During the pandemic the EpiShuttle has been widely used in transport, to where beds in ICU are available, even across nations.
– As the third wave of the pandemic hits Europe, hospitals are once again at maximum capacity. There are hotspots struggling, while others have beds available. Safe transport is crucial in order to maximize the capacity of the health care system, says Ellen Cathrine Andersen, CEO of EpiGuard.
In addition to transporting patients to where ICU is available, the EpiShuttle also keeps the ambulances operational, protecting both ambulance and crew from contamination and infection.
– Disinfection of vehicles puts transport vessels out of play, and in case of exposure, a whole team can be quarantined for days. With the EpiShuttle there is no need for disinfecting vehicles. In addition, medical personnel do not need to wear full personal protective equipment while transporting highly contagious patients inside the EpiShuttle, says Ellen Cathrine Andersen, CEO of EpiGuard.
In addition to Covid-19 medevacs, the EpiShuttle is also used for transport of patients with other contagious diseases as the SARS, MERS, Ebola and MRSA. Scanmed SIA is the Latvian distributor of the EpiShuttle. The EpiShuttle is NATOs stock listed and CE-marked as a class one medical device.
– The technology behind the EpiShuttle is of the highest quality and we are looking forward to introducing this single patient isolation and transport system in Latvia. One of the main advantages with this device is that it's reusable and extremely cost efficient. Also, vehicles used for transport of highly contagious patients in the EpiShuttle do not have to be disinfected after the transport, says Roberts Briska, product manager in Scanmed SIA.