Do you now what is Airbus Charter Service? Here is the answer - a service between Toulouse International Airport and Airbus' Finkenwerder sites,to commute between both Airbus sites. Volotea has been selected by Airbus to operate the Airbus Charter Service or the next five years. Volotea serves this route from Monday to Friday. Volotea operates this route with two dedicated Airbus A319s, especially suited for this high-demand-short route, with extra-wide aisle for fast turnarounds.
A new Volotea base is launched in Hamburg and creates ten new jobs locally to manage these operations.
"We are very proud to have been selected to operate this prestigious service. The signature and the maiden flight of this shuttle is the first step for an operation that will continue for the next five years. We are delighted to offer an excellent travel experience to Airbus' employees for their connection between Toulouse and Hamburg" said Carlos Muñoz, Founder and CEO of Volotea.
In 2015, Volotea officially announced in Toulouse its decision to choose the Airbus A319 as the model for its ambitious fleet growth plan. In 2020 Volotea will operate 24 Airbus A319s, after incorporating five additional units.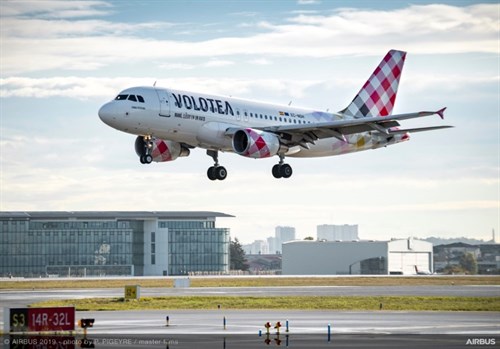 Volotea's Growth
Volotea, the airline of European mid and small-sized cities, has carried more than 25 millionth passengers since its first flight in 2012 and 6.6 million in 2018.
In 2019, Volotea is opening 41 new routes to serve a lineup of 319 routes, operating flights to more than 80 mid and small-sized European cities in 13 countries: France, Italy, Spain, Germany, Greece, Croatia, the Czech Republic, Portugal, Malta, Austria, Ireland, Luxembourg and Morocco. The airline expects to carry between 7.5 and 8 million passengers in 2019.
Volotea has currently thirteen bases: Venice, Nantes, Bordeaux, Palermo, Strasbourg, Asturias, Verona, Toulouse, Genoa, Bilbao, Marseille and Athens (these last three inaugurated in 2018) and Cagliari, recently inaugurated on May 30th 2019.
Volotea employs over 1,300 people in 2019 capitalizing in its activity growth. This year 200 new positions have been created.
In 2019, Volotea operates its network with 36 aircraft, Boeing 717s and Airbus A319s, after adding six additional aircraft in 2019. Both models are recognized for their comfort and reliability, with Volotea offering reclining seats which are 5% wider than the average in airlines.
The Airbus A319 is the aircraft model selected for its future growth and will allow the company to increase its passenger capacity by 25% to 156 seats and to serve longer routes.
In 2019, Volotea will launch new services and develop new management developments to continue increasing customers' satisfaction. Volotea achieves a 93.4% recommendation rate among its clients.