airBaltic informs that during three days of vaccination 410 employees of the company have used the opportunity to receive their first dose of Covid-19 vaccine next to more employees who have already received their vaccination against Covid-19 elsewhere. airBaltic is one of the first companies in Latvia to implement state-provided vaccination at the workplace, carried out by Klīnika Piramīda.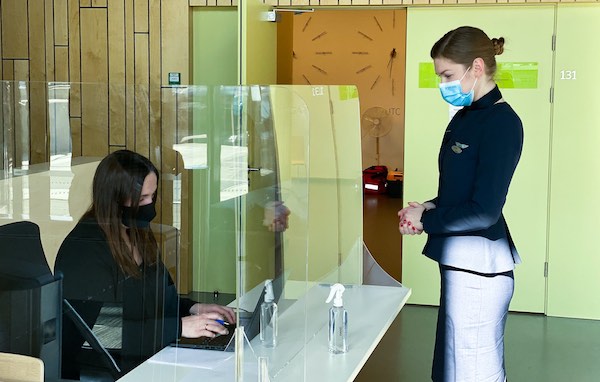 Martin Gauss, Chief Executive Officer of airBaltic: "Vaccination is the way out from this unprecedented crisis. We appreciate the opportunity provided by Latvia to offer vaccination to our employees. We will continue this program at the workplace, offering vaccination to everyone at the company to support the fast recovery of the economy and to enable airBaltic offering flights with vaccinated crew."
airBaltic currently employs 1 096 employees. During vaccination on May 6, May 7 and May 10 a total of 410 employees received their first dose of vaccine against Covid-19.
A revised flight schedule for upcoming summer months was published; Now passengers can also book tickets on the new destinations from Riga to Valencia ( Spain ), Pisa ( Italy) and Kos ( Greece). Martin Gauss, Chief Executive Officer of airBaltic: "We see that the market is slowly recovering, as the vaccine rates improve all over Europe. Our team is regularly revising our flight schedule in line with the changing passenger demand. In total, this year we plan to offer flights on 95 routes across the Baltics."
Destination served

Flight frequency

Start date

Price *,

GREEN

Price *,

GREEN Classic

Price*,

Business

Riga–Pisa

2 flights weekly

July 2, 2021

75 EUR

119 EUR

489 EUR

Riga–Kos

2 flights weekly

July 3, 2021

79 EUR

125 EUR

399 EUR

Riga–Valencia

2 flights weekly

July 1, 2021

79 EUR

125 EUR

599 EUR
*Lowest fare (round trip), including taxes, fees and service charges, on www.airBaltic.com, subject to availability
This summer airBaltic offers a total of seven destinations in Italy, six destinations in Greece and six destinations in Spain in addition to many other leisure destinations. In addition, the company offers a large variety of destinations across Europe, including the British Isles – London, Aberdeen, Manchester, Edinburgh in the United Kingdom as well as Dublin in Ireland.