As we promised - we are showing you much more of what we have learned about AZAL celestial angels.
Do you have any idea what a flight attendant has to know? How they are trained?
AZAL future flight attendants have practice on modern simulators that mimic the cabin and passengers.
Cabin crew must be able to provide first aid:measure the pressure
Make a cardiac massage and CPR
Provide first aid on receipt of traumatic brain injury
Attention! Flight attendants must be able to deliver a baby and to provide first aid to the newborn
Introduction to the terms of use of the oxygen mask, lifejacket and showing emergency exits. Ironically, some flight attendants happy to fulfill this standard procedure.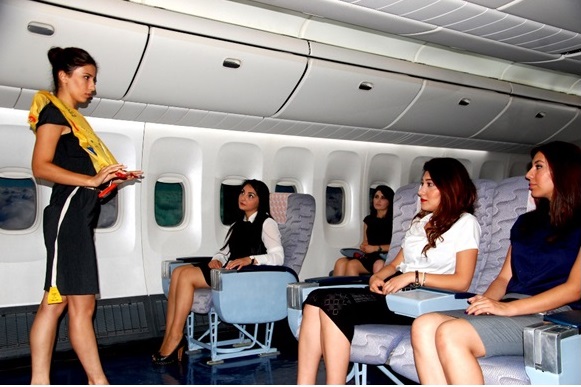 The ability to swim is mandatory in hiring cabin crew
After the training course is finished, trainees need to fly 50 hours, and only then, finally, gain admission to a long-awaited flight attendant status.
So what brings all these cute, clever girls to become flight attendants? Just look in their eyes, full of excitement and enthusiasm.
Listening to their stories, you realize that they are flight attendants by vocation.
Sevda Zamanova was born in the village of Buzovna. She knew from her childhood that she will work at the airport. Five years ago, she came to work in airport security service: "Back then I already wanted to try my chances in flight attendants casting, but family did not allowt, because they believed that the work of flight attendant is dangerous. Working in security i saw the highest level of safety in civil aviation of Azerbaijan. Once my parents were convinced of this, I finally decided to fulfil my childhood dream. Although I am currently studying my environmental engineer master's , I'm here now and very happy thatI made my first step towards my dream. "
Alla Gurshumova is English teacher by her degree, in the past was organizing various events. "This work suggests a high sociability, smiling. I liked it like crazy. To be honest, I dreamed of becoming a flight attendant since childhood, but something constantly stopped me. Learning that AZAL is recruiting flight attendants, I decided. I passed an interview and here I am, what unspeakably happy. "
The enthusiasm of the young trainees is understandable, but let's talk to those who are working already more than a year in this challenging and at the same time exciting field. Is sky romance so great that flight attendants flying for years without even thinking to change the profession?
AZAL Team leader Lily Lenskaya likes to repeat to all new recruits, "If one year after you start flying you didn't find another job, then you are tied to aviation forever."
These people love their work, even this crazy schedule, when you don't know what time zone you will find yourself tomorrow in. And they admit that they can't have strict working hours sitting in the office.
There is another stereotype - flight attendants don'tt have time for personal life. But as AZAL flight attendants told, if you want, you will find time for everything needed. "Azerrbaijan Airlines" have many examples of stewards create families with members of the flight crew or ground staff services.
To be continued!