Etihad Airways, official airline partner of Special Olympics World Games Abu Dhabi 2019, has delivered the World Games Flame of Hope to the UAE capital. The flame was carried in a specially designed cradle yesterday on aBoeing 787-9 aircraft sporting the airline's new Special Olympics livery, which proudly displays the images of four UAE Special Olympics athletes along its fuselage. The flight was flown by Captain Fouad Almarzouqi from the UAE, and Captain Spiridon Nakos from Greece.
A symbolic arrival ceremony was held at Abu Dhabi International Airport's VIP Terminal to celebrate the occasion, attended by His Excellency Sheikh Nahyan bin Mubarak Al Nahyan, UAE Minister of Tolerance, Her Excellency Hessa bint Essa Buhumaid, UAE Minister of Community, Major General Khalifa Hareb Al-Khaili, Chairman of the Institutional Development Council at the Ministry of Interior, Khalfan Mohamad Al Mazrouei, Managing Director, Special Olympics World Games Abu Dhabi 2019, Talal Al Hashemi, National Director of the Special Olympics UAE, VIP dignitaries and representatives from the Special Olympics, Etihad Aviation Group, and other organisations associated with the Games.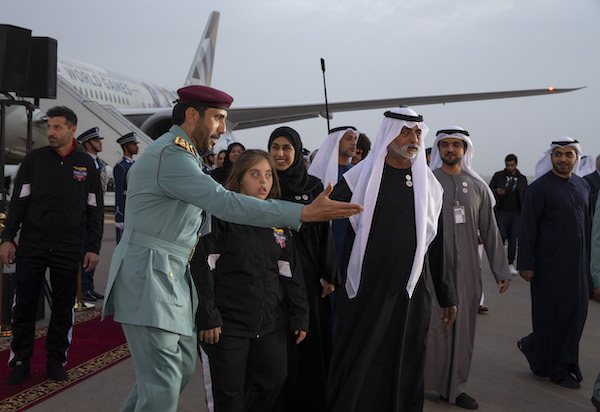 The torch will be carried throughout all seven emirates of the UAE from 4 March to 13 March before concluding its journey at the Opening Ceremony of the Games.
Tony Douglas, Etihad Aviation Group Chief Executive Officer, said: "Flying the World Games Flame of Hope from Athens to Abu Dhabi in the UAE's Year of Tolerance is a tremendous honour for all of us at Etihad.
"As the official airline partner of the games, the greatest reward for Etihad, and for all of us who call the UAE home, is without doubt the opportunity to play our part in supporting and celebrating athletes of determination, and to showcasing Abu Dhabi as a forward-thinking and multicultural centre of tolerance, faith and inclusion. We wish them every success.?
The arrival of the World Games Flame of Hope was preceded by a lighting ceremony at Zappeion Palace in Athens, led by Special Olympics Hellas and Torch Run International teams. Chaica Al Qassimi, UAE Special Olympics ambassador, then ran with the torch from Olympia to a special ceremony held at the UAE Embassy in Athens, hosted by His Excellency Mohammed Meer Abdullah AlRaeesi, Ambassador of the United Arab Emirates to Greece, and attended by Etihad representatives and other specially invited guests.
Taking place in the Middle East and North Africa region for the first time, this year's Special Olympics World Games Abu Dhabi 2019 are expected to attract up to 500,000 spectators and will be the largest global event ever to be held in the UAE.
Bringing together more than 7,500 athletes from over 190 nations, Special Olympics World Games Abu Dhabi 2019 is the largest sports and humanitarian event on the planet this year.
Etihad Airways will ferry athletes, equipment, coaches, dignitaries, and media to Abu Dhabi for the event. The athletes will be accompanied by 2,500 coaches and delegates.
The Special Olympics World Games Abu Dhabi 2019 will take place between 14 – 21 March and you can find further information here: https://www.meetthedetermined.com/.