For a second year in a row, Norwegian Air has been named a 2020 Four-Star Low-Cost Airline by The Airline Passenger Experience (APEX), the highest honor in the category of low-cost carriers!
The renowned Official Airline Ratings™ was the first airline rating program based solely on certified passenger feedback and Norwegian was one of ten low-cost airlines worldwide to receive the honor.
"A Four-Star rating especially from our own passengers that voted based on their experience with us, is a true honor and a testament to the dedication of all our employees to provide outstanding service and products. Each year, we continue to garner industry accolades and those that matter most are the ones voted by passengers," said Kurt Simonsen, Chief Customer and Digital Officer at Norwegian Air.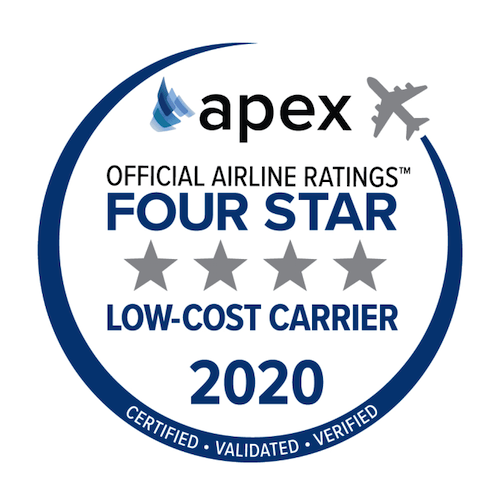 The announcement was made Monday evening at APEX's annual gala, which took place in Los Angeles. APEX, the only non-profit membership trade association dedicated to improving the entire airline passenger experience, announced the airlines honored with four and five-star Official Airline Ratings. Airlines are divided into three different categories: Global Airlines; Major Regional; and Low-Cost Carriers.
"Norwegian Air's top-notch customer experience enabled them to achieve the highest status possible for a low-cost airline as an APEX 2020 Four Star Low Cost Carrier. From 1.4 million rated flights across nearly 600 airlines worldwide, Norwegian Air provided an incredible blend of service enabling an APEX star rating only afforded to a small, single-digit percentage of airlines worldwide," said APEX CEO Dr. Joe Leader.
The APEX Official Airline Ratings™ is based on neutral, third-party passenger feedback and insights gathered through APEX's partnership with TripIt® from Concur®, the world's highest-rated travel-organizing app. Using a five-star scale, more than one million flights were rated by passengers across nearly 600 airlines from around the world between July 1, 2018 and June 30, 2019. First, passengers rated their overall flight experience from one to five stars. On the same screen, passengers were given the opportunity to provide anonymous ratings in five subcategories: seat comfort; cabin service; food and beverage; entertainment; and Wi-Fi. The single screen rating allows airline passengers to easily rate their flight in less than 15 seconds.
Norwegian is now one of the world's most awarded low-cost airlines following previous accolades in 2019 including World's Best Low-Cost Long-Haul Airline by Skytrax for five consecutive years and Europe's Leading Low-Cost Airline 2019 by World Travel Awards for five consecutive years. Norwegian has also been named theMost Fuel-Efficient Airline on Transatlantic Routesby the International Council on Clean Transportation (ICCT) twice.