Serbian authorities are investigating reports that two missiles were found in cargo headed to the U.S on a passenger flight from Lebanon to Serbia, The Associated Press reports.
The cargo containing the pair of "armor-piercing missiles" aboard an Air Serbia flight from Beirut was discovered Saturday at Belgrade Nikola Tesla Airport, the AP reports, citing Serbian television. The missiles had been packed in wooden crates, according to Serbian TV station N1.
Serbian media reports say the cargo was bound for Portland, Oregon.
A spokeswoman for the FBI's Portland division said the bureau is aware of the report, but had no information to release. Representatives with Air Serbia did not immediately respond to request for comment, but told Serbian media they were cooperating in the investigation.
A spokesman for Lockheed Martin, which manufactures the weapons, said the company had not yet been notified about the issue and referred further questions to government officials.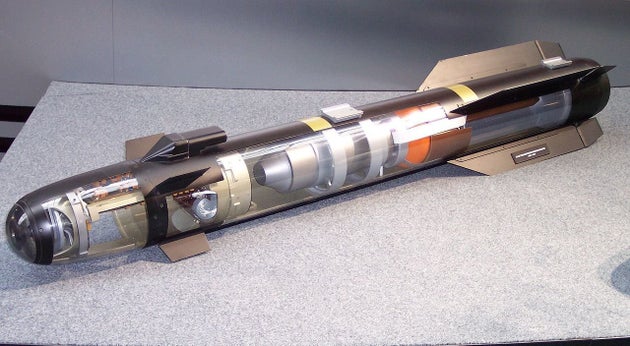 CREATIVE COMMONS/STAHLKOCHER
The missiles are able to lock onto a target before or after launch, according to a description from Lockheed Martin. One missile can easily destroy a car or a tank. The company notes the missiles have been used in both Operation Enduring Freedom and Operation Iraqi Freedom.
There's no legitimate reason for the missiles to be on a passenger flight, Robert Caruso, a former State Department and Pentagon staffer, tweeted Sunday. The missiles, he speculated, were probably stolen.
According to Aleksander Radić, a military analyst who spoke with N1, while weapons are occasionally transported through Nikola Tesla airport, it is completely unheard of for that be done via passenger plane. He added that airport procedures mean that the airport is responsible for checking all baggage before putting it on board, not the specific airline.
The State Department announced a possible sale of 1,000 Hellfire II missiles to Lebanon in June 2015. These types of announcements are usually a clear indication a sale is imminent.
If confirmed, this wouldn't be the first time Hellfire missiles have turned up where they weren't supposed to be. In January, the Wall Street Journal reported that a dummy training missile had been sent to Cuba in 2014. The Cubans finally returned the missile after its loss became public.
There are a lot of Hellfire missiles out there. In January, for example, the U.S. Defense Security Cooperation Agency approved a possible $800 million sale of 5,000 of them to the Iraqi government to aid in its fight against the Islamic State group.