Another major milestone was marked by Rex Airlines, as the first of its Boeing 737-800NGs landed in Sydney in full Rex livery (airline colours) on 23 odf December 2020, on Christmas Eve.Rex has leased six Boeing 737-800NG aircraft in readiness for its inaugural service from Melbourne to Sydney commencing 1 March 2021. Brisbane will be added to Rex's capital city network after Easter.
Rex's Deputy Chairman the Hon John Sharp AM said, "The livery of Australia's favourite Regional Airline is now emblazoned on a 737, ready for take-off. It's a historic moment. Our second 737 is currently being painted by Douglas Aerospace at one of the country's finest aircraft paint facilities in Wagga Wagga. The remaining four 737s are undergoing scheduled checks and will be brought in-country over the next 3 months."
"With Rex's entry into the domestic market, passengers are no longer forced to choose between cheap fares that come with limited service and reliable service with premium fares. Rex is bringing its renowned country hospitality to the capital city market, offering twice the value at half the cost. This is the shake-up Australia's domestic aviation sector has been crying out for and it could not have come at a better time, as Australia struggles to recover from the worst pandemic in the last century."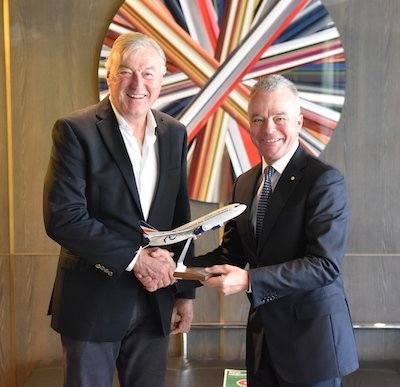 Rex is Australia's largest independent regional and domestic airline operating a fleet of 60 Saab340 aircraft (pre-COVID) on 1,500 weekly flights to 59 destinations throughout all states in Australia. Rex will begin its domestic services with six 737-800NGs in March 2021. In addition to the airline Rex, the Rex Group comprises wholly owned subsidiaries Pel-Air Aviation (air freight, aeromedical and charter operator) and the two pilot academies, Australian Airline Pilot Academy in Wagga Wagga and Ballarat.