Generating changes through joint efforts. This is what the new initiative introduced by Lithuanian Airports targets at. Blitz sessions is the name given to the project for attracting new airlines and routes when joint efforts of government institutions, municipality organisations, entrepreneurs associations and separate enterprises are directed towards attracting the most necessary routes for business, cities or regions, as well as ensuring appropriate frequencies of flights.
"This initiative will enable us to consolidate efforts and reach agreements that will open new opportunities for Lithuanian business and will bring benefit to the state. We have high expectations on these win-win collaborations because we clearly see their high efficiency," states Marius Gelžinis, CEO of Lithuanian Airports.
The CEO of Lithuanian Airports also emphasised the benefit of the new initiative to all the airports in the country. The Blitz programme aims at opening up new possibilities for Vilnius, Kaunas, and Palanga airports because an increased accessibility of the country and its economic effect will be felt all over Lithuania.
"It is worth mentioning that competition seeking to attract new airlines or open a new route is highly tough. Both financial contribution and other support measures from government institutions, municipality organisations, entrepreneurs associations and separate enterprises gain utmost importance when Lithuanian Airports seek to successfully compete with airports all over Europe, i.e., with significantly bigger markets in terms of population, economic development and standard of living," states Aurimas Stikliūnas Head of Aviation Services Division of Lithuanian Airports.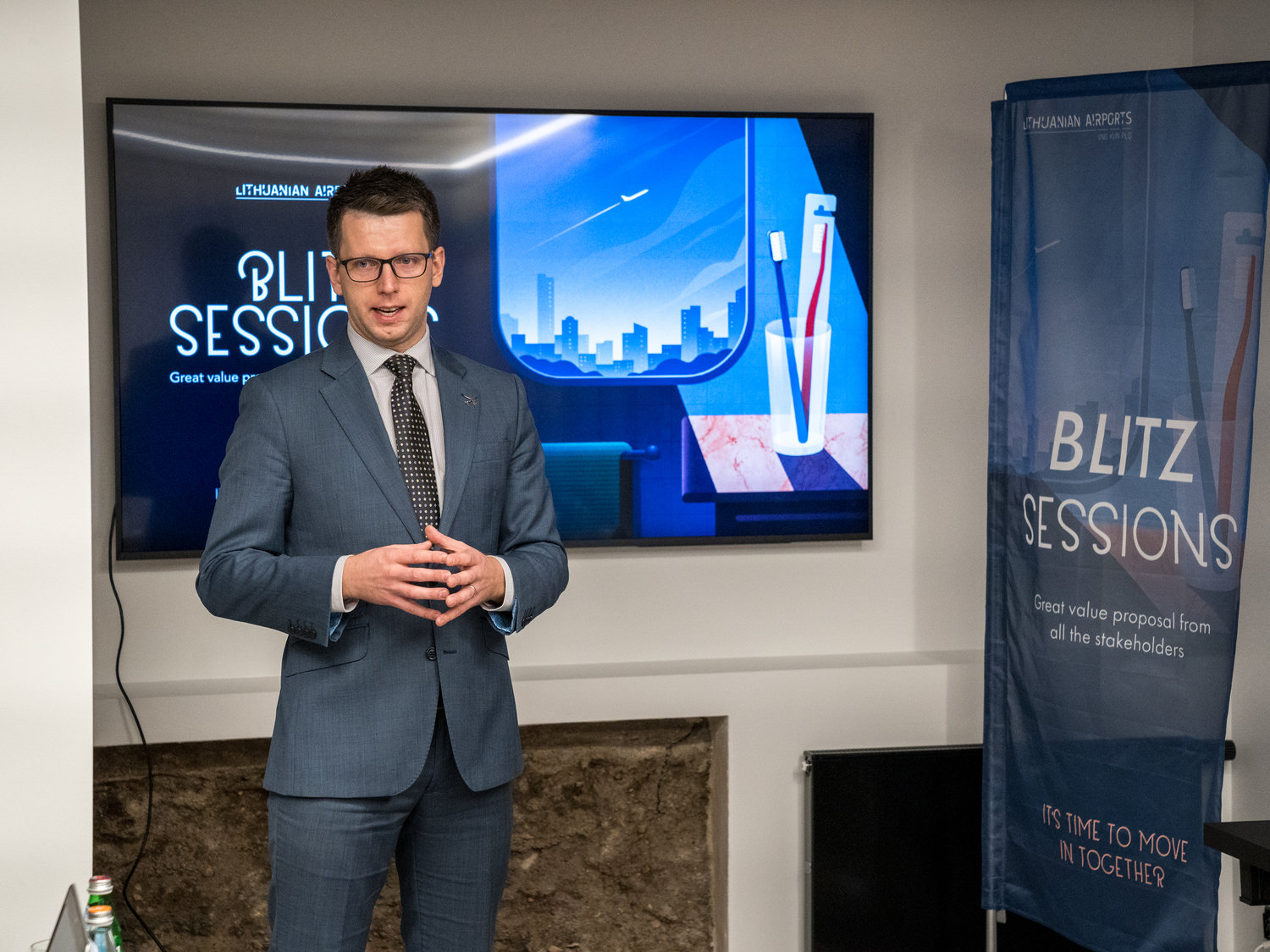 According to him, the air carrier itself makes the decision about entering a market, opening a new route or closing the existing one. Therefore, it is beyond the doubts that the new initiative Blitz will definitely contribute to the successful outcome of competing with other airports because joint efforts of different stakeholders seeking to attain a common goal will significantly increase possibilities for attracting new flight routes.
Up to now new routes have been attracted offering reduced rates of airport charges and providing air carriers with de minimissupport of 200 thousand EUR for a period of 3 years. Such support is strictly regulated by the EU legal acts. Therefore, more considerable support to EU airports is prohibited by EU legislation.
Since 2015 more than 10 new destinations have been opened providing airlines with de minimissupport.
"Lithuanian Airports have several examples of successful collaboration with partners: together with financial support from Kaunas City Municipality, the image of Kaunas Airport as a low-cost airport has been changed after the Polish airline LOT opened a route to Warsaw. The Association of Klaipėda Region Municipalities has successfully contributed to attracting flights from Palanga to London Luton Airport. Targeted efforts are currently under way to introduce a route to Germany. We expect the outcomes of the Blitz"sessions to be even better," says A. Stikliūnas.
During the sessions, the representatives of Lithuanian Airports together with partners provide complex proposals to air carriers. The first meeting was held at the end of October and the possibilities of basing an additional aircraft at Vilnius Airport and expanding the network of routes in Lithuanian Airports were discussed with the representatives of airBaltic. "I think that this session has been very useful as we have discussed potential cooperation with all the parties concerned", shared her impressions Inga Znotina, Network Planning Manager of airBaltic.
According to the representative of airBaltic, none of European airports has ever organised a meeting at such level when all interested parties are invited to meet and discuss development opportunities.
The Blitz sessions welcome organisations and business representatives of different profiles. Currently, the list of participants includes such enterprises as State Department of Tourism, "Invest Lithuania", "Enterprise Lithuania", "Go Vilnius", "Kaunas IN" the Association "Klaipėda Region", and "Klaipėda ID"The list is not final. Different interested parties are invited to discuss every new destination. According to CEO of Lithuanian Airports, meetings with approximately 10 strategically significant air carriers have already been planned.
About Lithuanian Airports
The Lithuanian airport network includes three airports in Vilnius, Kaunas, and Palanga. During 2017, they serviced 5.2 million passengers and 55 thousand flights. During the summer season, 15 airlines organize direct flights in 66 regular directions to 59 cities in 26 countries. Based on data of the Airports Council International (ACI Europe), Lithuanian Airports contribute to the Lithuania's GDP by 2.5 percent.