A flight to New York has been diverted to Ireland after declaring an emergency minutes after it took off from Manchester Airport.
The plane was diverted to Shannon Airport in County Clare amid reports of smoke in a lavatory, according to tracking website Air Live.
Pakistan International Airlines Flight 711 was due to fly to John F Kennedy International Airport after its departure scheduled at 12.45pm.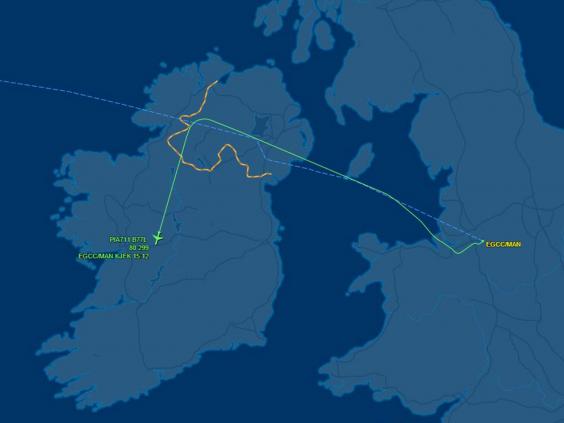 The flight path of Pakistan International Airlines Flight 711 on 23 April 2016 (Flight Aware)
But tracking data showed the Boeing 777 taking a sharp turn south minutes later and descending towards an emergency landing as it sent a 7700 "squawk".
The code alerts all air traffic controllers in the vicinity to an emergency situation on board, such as a passenger falling ill, and the crew makes the decision whether to land.
Niall Maloney, the operations director at Shannon Airport, toldThe Independent a technical problem was believed to be the source of the alert.
"A Pakistani International Airlines Boeing 777 from Manchester to JFK has diverted to Shannon Airport having declared an emergency en-route," he said.
"The aircraft landed safely at 2.36pm at is now at a stand."