For those who were not able to follow in real time we have all details here - the winner is Tamarack Aerospace active winglets touching down first, with about 25% less fuel burn!
Tamarack Aerospace was the official winner of the Tuesday, January 26 "Fly-Off" between an unmodified CitationJet and an Active Winglet transformed CitationJet. This event was a real-world comparison between the Active Winglet's performance on a Cessna CitationJet (N44VS) against flat-wings(N741CC). The aircraft with Active Winglets took off with a deliberate 200 lb. additional weight penalty. Both aircraft took off at Portland, Maine (PWM) and targeted West Palm Beach, Florida (PBI) for landing. The Active Winglet aircraft flew to PBI without a stop and burned 155 gallons less fuel than the flat-wing aircraft despite a stiff headwind. The flat-wing aircraft had to stop to refuel in Columbia after weather-related performance restrictions, but was back in the air quickly. They had twice the enroute fuel burn rate of the Active Winglet transformed aircraft.
AOPA journalists were onboard both aircraft to document the event, which was tracked live on the web. The fly-off was also documented according to National Aeronautic Association rules, and will be considered for a record flight time between the city pairs.
The flat-wing aircraft (N741CC) travelled a total of 1,496 miles after being forced inland slightly by weather conditions, spent 5 hours and 37 minutes in the air, and used 3,650 pounds of fuel.  The Active Winglet transformed aircraft was able to take a more direct route and travelled 1,386 miles, spending 4 hours and 36 minutes in the air, and used a total of 2,610 pounds of fuel.
The Active Winglet-equipped Cessna CitationJet (N44VS) was flown by 30-year pilot and aircraft owner Wick Zimmerman, CEO and co-founder of Outside the Lines. The unmodified flat-wing aircraft (N741CC) was flown by aviation veteran Mike Laver, owner of Carolina Turbine Support.
Tamarack CEO Nick Guida is proud of how the Active Winglets performed during the fly-off. "This was the first fly-off comparing an Active Winglet aircraft and a flat-wing aircraft operating under the same conditions," he says. "Active Winglet mods can result in up to 33% fuel savings, depending on weather conditions and other variables. Comparing these two flights, we saw about a 30% more efficient flight profile in terms of fuel consumption. As we saw yesterday, the Active Winglet competitor was unable to make the east coast trip without a stop, we couldn't plan it safely. The Active Winglet transformed CitationJet (N44VS) was able to complete the trip without a fuel stop."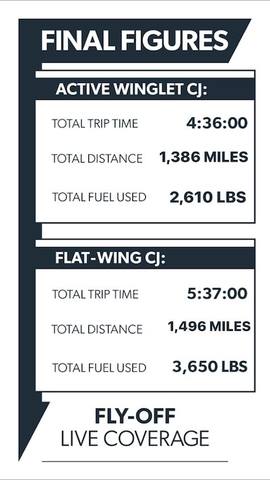 "I am very pleased with how the Active Winglets performed in yesterday's fly-off" shares Wick Zimmerman. "Active Winglets provide dramatic fuel savings, increased safety benefits, and much more. I am glad that the aviation industry is able to see this game changing technology in action."
"I am very happy I was able to participate in this dramatic fly-off," shares Mike Laver. "The Tamarack Active Winglets are an impressive technology that continue to prove they help with fuel efficiency "says Laver. "Congratulations to Wick and the entire Tamarack team!"
Tamarack Active Winglets are comprised of a wing extension, a winglet, and an autonomous load alleviation system. The active winglet technology features instantaneous adjustment to turbulence, affording smoother and safer flights, quicker climbs, the need for shorter runways, fewer stops, up to 33% percent reduced fuel use, and more stable flight. Tamarack Active Winglets modifications are featured on more than one-hundred Cessna Jets and are being considered for other aircraft, including single-aisle commercial and military aircraft.