Congratulations! EBAA Safety Recognition Award goes to SEA Prime! The award is assigned by EBAA to recognize success stories resulting from going 'the extra mile' and tangible manifestations of safety precautions in addition to those required by the regulations.
On the occasion of the opening of the new Business&General Aviation Milano Prime Terminal of Milano Malpensa international airport, inaugurated last July 23rd, SEA Prime has designed and implemented operating procedures with the aim of managing, in a particularly complex environment, the business and general aviation traffic in Milano during the three-month closure of Linate airport. In the summer months already characterized by seasonal peaks and during Linate closure Milano Malpensa airport has faced an increase from around 600 to 950 average of daily movements, receiving, in addition to the general aviation traffic, national, European and intercontinental flights on two 3,920 mt-long runways.
Through an operations letter and dedicated procedures, it was possible to use for general aviation a dedicated portion of the apron of approximately 90,000 sqm, with a special regulation, within the EASA Regulation 139/2014 framework.
The operations letter and the procedures have been shared with and approved by SEA, ENAC, ENAV and Assoclearance and disclosed to all operators involved including through the sites of the main business aviation associations (including EBAA, NBAA and MEBAA). Mandatory training and familiarization courses were also provided to raise safety standards.
At Linate, during the closure, special procedures were implemented to allow the activity of Milano Prime based helicopters and the helicopter shuttle during the Monza Grand Prix in the first weekend of September. During this period, around 400 helicopter movements have been managed.
"We thank EBAA for this award recognizing the constant commitment of SEA Prime and the SEA Group in offering excellent services while always putting safety first, within the framework of the best operational standards", said Chiara Dorigotti, CEO of SEA Prime SpA. "Thanks to the procedures designed and implemented in the extraordinary period of the 3-month closure of the Linate airport, we were able to manage over 5,100 Aviation business aviation movements, with an increase of ca 260% compared to the previous year".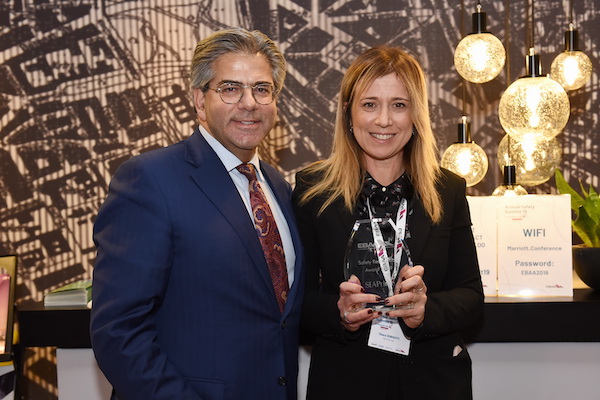 EBAA Secretary-General, Athar Husain Khan, said "as the voice of business aviation in Europe, we want to recognise inspirational success stories resulting from going the extra mile in terms of safety culture and precaution. SEA Prime did just that, by implementing special procedures compliant with the highest safety standards to manage additional traffic in Malpensa during the closure of Milan's Linate Airport, one of Europe's busiest airports, particularly during summer months."