My Sky's CEO and Cofounder Kirill Kim recognized as the Gamechanger of the Year on the International list
My Sky, the Swiss company specialized in business aviation financial control since 2015, was recognized as the Company of the Year (Aviation) by ACQ5 Global Awards 2017, with its Cofounder and CEO Kirill Kim being named the Gamechanger of the Year, both awards in the International category.
The 12th Annual ACQ5 Global Awards honour the leading teams, firms and professionals whose activities set the standard for global markets. This year, companies and individuals representing every major market in the world, became finalists for the awards. The total number of nominations received stood at an amazing highest ever 83,121 representing a 37.6% response rate.
My Sky's business aviation online platform supported by an in-house team of 80+ experts was first introduced to the market in August 2015. Today it allows to collect, digitize, analyse, benchmark and store all relevant financial information on private jets and provides it to the owner via a user-friendly interface available 24 / 7. As a result, operational costs are reduced and overall management efficiency is increased, without compromising security and service during the flights. In just two years after the launch My Sky has reached 1.8% of the European business aviation market, with 60 aircraft with a total value of EUR 1.8 bln under financial management and 110 leads in the sales pipeline.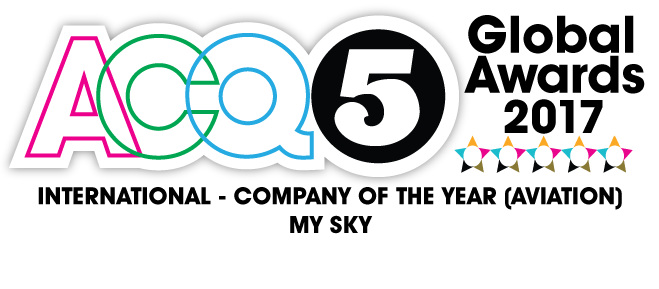 Kirill Kim, CEO and Co-founder, My Sky, commented: "Our team and me personally are very honoured and excited by this prestigious recognition at the international level. In addition to our clients' feedback and Gold Stevie® Award and Sapphire Pegasus Business Aviation Award we have received early this year, this is a very important benchmark in the independent expert assessment of our company and our business model. The Gamechanger of the Year and the Company of the Year are both very honorable and demanding titles, and we will make sure we keep pace to continue the revolution we have started in the business aviation industry for the benefit of our clients and partners".
"Experts with intimate knowledge and expertise in the corporate, cultural, financial and legal arenas are redefining our industry," said Jake Robson, Group Editor of The ACQ5. "The 2017 ACQ5 Global Award winners represent the best of breed in all industry sectors and have earned these honours by standing out in a group of very impressive finalists. Operating a legitimately independent nomination process, our award winners that represent the benchmark of achievement and best practice in a variety of fields are chosen by our readership that helps us to recognise an ever-widening spectrum of services, markets, industries and organisations that serve our global market place."
ACQ5 Global Awards decisions are firmly based on peer nominations following the receipt of detailed submissions from market participants and extensive year-round research into the markets in all global region. ACQ5 Global Awards cover global categories, best-in-class awards in all regions in over 100 countries around the world. The poll was not only designed to reflect actual performance in any particular area of expertise, it was also aimed to reflect direct market share based on a number of criteria.
The full list of ACQ Global Awards 2017 winners across all markets is available at https://www.acq5.com/ga17url1/