End of October 50skyshades had a great chance to visit a real helicopter city - Zabrat airport, home base for SilkWay Helicopter Services ( SWHS). 20 minutes drive from Baku International airport and we entered the real helicopter world.
First person to guide us in this helicopter city was General director of SWHS Mr.Azer Sultanov, who told us about company's history, present life, but also shared some future key events.
To remind our audience, Silk Way Helicopter Services was registered back in 2008. Today, Silk Way Helicopter Services is able to perform takeoffs and landings in remote locations on land and drilling platforms at sea and in mountainous areas, to carry out the transportation of passengers and cargo, dangerous goods, construction work and search and rescue operations.
Before the visit we did our "background check". We must say... we were very impressed when Mr.Sultanov gave us some statistics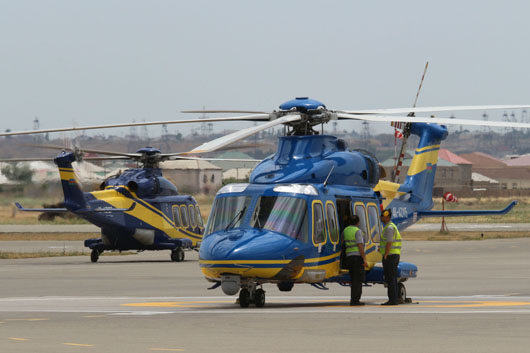 Silk Way Helicopters are transporting 40 000 passengers per year. There is a logical explanation of how and why - company has more than 15 helicopters in it's fleet. "At the moment we have quite a large fleet, based in Zabrat: including Airbus Helicopters AS332L1 (Super Puma), Airbus Helicopters EC155B1 (Dauphin), Mi-8 MTV-1 and Mi-171. 3 years ago, we got two new types of helicopters in our fleet - Sikorsky S-92A, and in 2013 seven AW139 (Offshore & SAR, VIP) » - told Mr.Sultanov.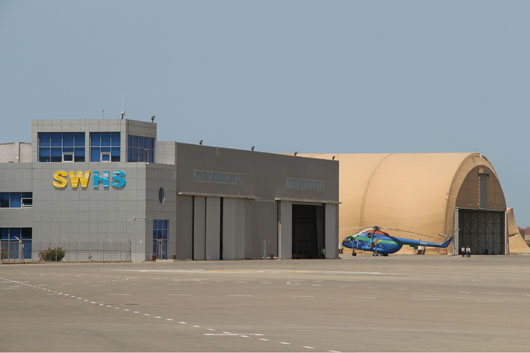 Major goal of the company is to ensure Flight Safety rather than to have economic profit. Therefore special attention is attached to the improvement of company's personel professional skills. Special training cources incorporating relevant fields are organized for both - technical and flying personel.
We were asking where from the company is getting bests of the bests pilots? The answer was simple and in fact logical - National Aviation Academy. Then young pilots have the chance to go additional training to improve their skills in USA, France, Italy, Germany, Canada, Russia, Lithuania and other countries. So as the result - impressive international knowledge and experience.
So It is not a coincidence, that among SWHS customers there are such well-known companiesas SOCAR, BP, TOTAL, Schlumberger, and others, who are now involved in the development of Azerbaijan's Caspian shelf, - continues Mr. Sultanov.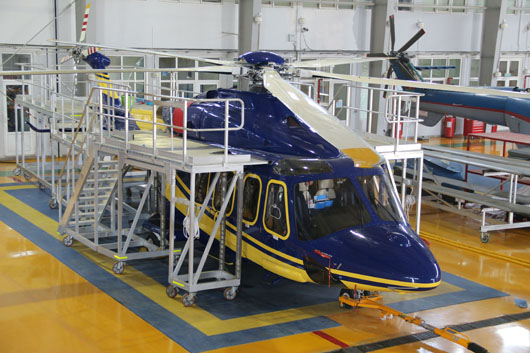 We stated Zabrat base of Silk Way Helicopter Services to be a helicity - see for yourselves: an airport, air traffic control and planning of it's own, OPS,huge maintenance facilities, training center, fire department of it's own, fuel service of it's own, crew building which is truly amazing and event with it is own swimming pool. Each step we made in Zabrat made us confident here is everything possibly needed to ensure highest level of all range of helicopter services.