First time, first public appearance in China during ABACE 2019... World's Largest and Longest-Range Business Jet... Yes, that's right - Bombardier Global 7500 will be at the airshow, first time since it entered service!
"We are thrilled to have the game-changing Global 7500 aircraft on display at ABACE," said Khader Mattar, Vice President of Sales for the Middle East, Africa, Asia Pacific and China, Bombardier Business Aircraft. "With its range, comfort and smooth ride, the Global 7500 aircraft is ideally suited to meet the needs of business jet customers in the Greater China region."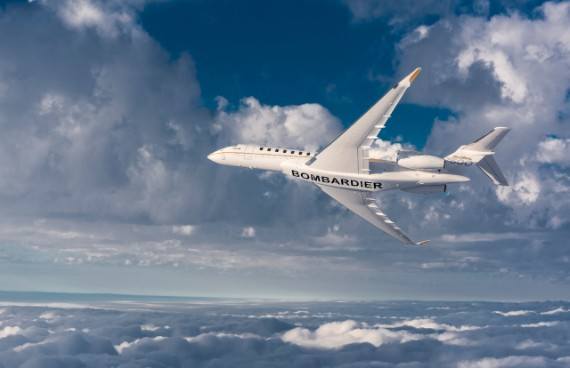 Interest in this unique business jet has only intensified since the Global 7500 aircraft entered service at the end of 2018 and continues to surpass expectations in terms of cabin experience and performance.
The Global 7500 aircraft's published range of 7,700 nautical miles is the longest in business aviation. It can connect the cities of Beijing, Shanghai and Hong Kong non-stop to the cities of New York, London or Milan. This aircraft can also fly nonstop from Singapore to Vancouver.*
The Global 7500 aircraft provides invaluable access to demanding, long-range flights in an environment of spaciousness, comfort and productivity. The elevated cabin experience aboard the Global 7500 aircraft is on display during an ongoing world tour, during which visitors have praised the aircraft's intuitive design and cabin innovations.
Within its four true living spaces, the Global 7500 aircraft offers a fully-equipped kitchen and a master suite with a permanent bed and stand-up shower available. The aircraft also debuts Bombardier's patented Nuage seat, meticulously designed for maximum comfort, and the revolutionary nice Touch cabin management system, featuring business aviation's first application of an OLED display.
The Global 7500 aircraft is the winner of the 2019 Aviation Week Grand Laureate Award as well as the 2018 Red Dot Award for Product Design.
Visit Bombardier at ABACE 2019, where the exceptional large-cabin Global 6000 aircraft and the best-selling Challenger 350 aircraft will be on display alongside the Global 7500 aircraft.