On 14th June 2018, Sino Jet Ltd., a leading business and general aviation (BA/GA) operator, part of the Sino Jet Group, held a VIP launch event to signify the opening of its new Guangzhou base. This is the newest office to be opened by the growing operator and adds to its existing bases in Beijing, Hong Kong and Shanghai. The expansion of the company's presence and investment into the Greater Bay Area of China signifies its confidence in the growth of its aircraft management, charter and high-end tourism businesses. The new office in Guangzhou will be led by Frank De, CEO of Sino Jet Hong Kong and member of the Board of Governors at AsBAA.
The Greater Bay Area is a city cluster comprising two special administrative regions, Hong Kong and Macau, and nine cities: Guangzhou, Shenzhen, Zhuhai, Foshan, Zhongshan, Dongguan, Zhaoqing, Jiangmen and Huizhou. It has been highlighted as a Region for economic growth and development according to the Report on the Work of the Government that was delivered by Li Keqiang, Premier of the State Council of China, at the fifth session of the 12th National People's Congress on 5 March 2017.
The Greater Bay Area links China with the international market and includes a super-airport cluster of five facilities at Guangzhou, Hong Kong, Shenzhen, Macau and Zhuhai. The infrastructure is also in a state of continuous expansion and improvement and will have 88 billion yuan of public investment between 2017-2020. This investment will cover 16 projects, including: Guangzhou Baiyun Airport Phase-3 expansion, Shenzhen Airport expansion, Zhanjiang Airport relocation and reconstruction, the Huizhou Airport upgrade, Pearl River Delta New Trunk Airport, Jieyang Chaoshan airport upgrade and expansion project and Guangzhou Second Airport, to form a "4 plus 5" hub-airport system with Guangzhou Baiyun Shenzhen Bao'an at the core. A civil aviation transport network will then radiate the pan Pearl River region forming a "4-hour aviation ring" covering China, Northeast Asia, Southeast Asia and South Asia.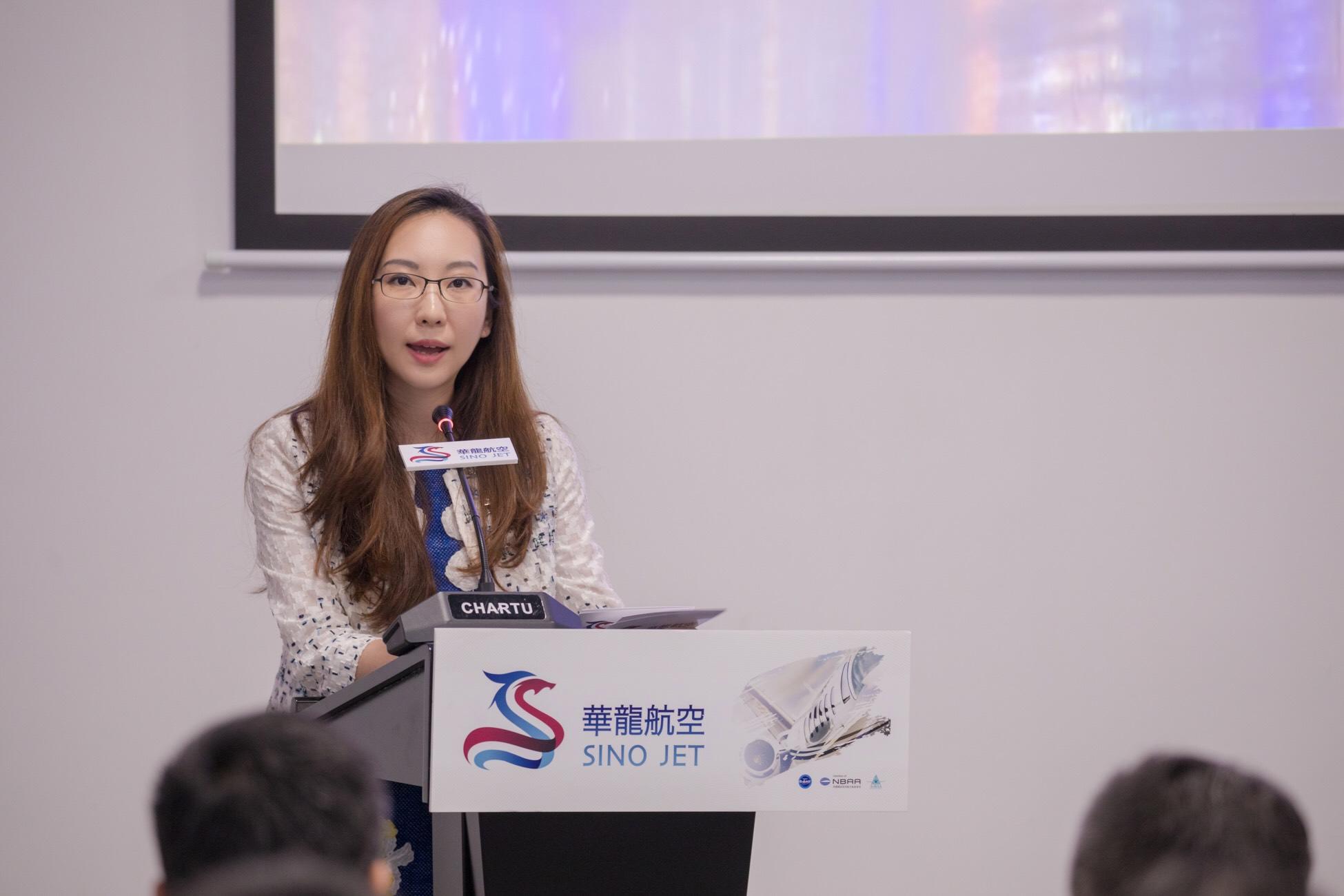 Jenny Lau, President of the Sino Jet Group and Chairperson of the Asian Business Aviation Association (AsBAA) said, "The Belt and Road Initiative offers the Greater Bay Area opportunities for development, while the Greater Bay Area construction scheme put forward by the government proposes the most significant opportunities in the history of the industry in this Region. The Sino Jet Shanghai Office has been well received in East China following its inauguration in 2017 and we are confident about the growth of the industry in the Region. Sino Jet and the Group of Companies are now in period of expansion and we hope to leverage these new opportunities to drive the businesses and the wider industry forward".
According to the 2017 China General Aviation Report by Asian Sky Group, business jets operates primarily in economically-advanced regions such as Beijing (111), Guangdong (56) and Shanghai (43); the fleet of these three regions accounts for 62% of the total business jets in China and six of the top ten in Hurun China Rich List in 2017 have their enterprises headquartered in the Pearl River Delta.
The press conference and VIP launch event was attended by: Jenny Lau, President of Sino Jet and Chairperson of the Asian Business Aviation Association (AsBAA), Chris Wu, Executive President of Sino Jet Beijing, Frank De, CEO of Sino Jet Hong Kong, Zhao Lingyun, President of China Entrepreneur Flying Club GEOSTAR, and The CEO of Yitong Business Aviation Services Company Ltd. of GAA,Mr.James Xiao.

Sino Jet is a business jet operator and management company founded in 2011. It is headquartered in Beijing and Hong Kong. Sino Jet is built on a culture of professional integrity delivered with a meticulous attention to detail and commitment to service excellence and safety. It is the fastest growing business aviation management company in Greater China, characterised by its industry leading One-Stop Business Jet Travel Suite of Solutions.
Established in 2014, GEOSTAR provides high-end, creative travel services that include its signature once-in-a-lifetime experiences to Antarctica and the Sahara Desert. GEOSTAR has won the Prize for Innovation in Business Aviation Award, the Top Club in China and the "Best High-end Tourism Brand" for many times. With the establishment of Sino Jet Guangzhou Office, GEOSTAR also uses Guangzhou as one of its bases, and devotes great effort in expanding high-end tourism business in the Greater Bay Area.