Do you think it is possible to land an aicraft inside a building? In a safe way? For months, JET MS engineers and mechanics teams have been preparing the Bombardier CRJ200 aircraft for its new life as a breath-taking decoration. Such dismantling of an aircraft requires deep knowledge and precision - valuable parts that can still be reused or repurposed are removed, leaving behind a fuselage that is destined to "land" in Avia Solutions Group building. Once the designated area was prepared, JET MS prepared the aircraft for safe transfer.
The unique architectural choice to display an aircraft fuselage in the new building acts like a symbol of Avia Solutions Group's dedication to the aviation industry as well as shows the group's commitment to sustainability. According to JET MS, nearly 100% of the CRJ200 aircraft is re-used, reaching one of the highest aircraft recycled percentages in the industry.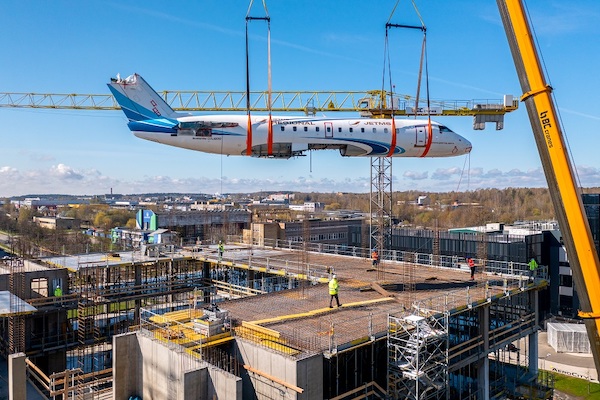 "I am delighted that we were able to take part in such a unique project. Avia Solutions Group office building is the first of its kind that has an actual aircraft inside its premises. While challenging, the project proved that JET MS teams are extremely professional, driven and dedicated to providing the best services, ensuring successful project outcome every step of the way. Additionally, this project shows the possibilities of sustainability in the MRO sector. We are excited to achieve a nearly 100% recycling rate and to lead the industry towards more sustainable and environmentally friendly operations," commented JET MS Chief Executive Officer Vytis Zalimas.
The Bombardier CRJ200 aircraft project is one of many new options JET MS has been exploring for aircraft utilisation, with goals of sustainability and minimal impact on the environment.