During RUBAE 2021 UTG PA company and SKYPRO TECHNICS aviation service center signed a letter of intent aimed at long-term cooperation. This agreement provides for the establishment of an authorized center for line and regular maintenance of Pilatus PC-12 and PC-24 models, and line maintenance of other business aviation aircraft. Further, the companies are planning to expand the services according to San Marino (T7) and Aruba (P4) regulations.
SKYPRO TECHNICS is a joint project of SKYPRO HELICOPTERS and Nesterov Aviation, an authorized Pilatus aircraft center in Russia. It provides comprehensive maintenance and airworthiness solutions for private aircraft.
The Center provides a comprehensive aftersales service and organization of Pilatus aircraft airworthiness maintenance, including scheduled maintenance, field maintenance operations, AOG and unscheduled repairs, delivery of components, and supplies for uninterrupted operation of aircraft in Russia and CIS countries. The necessary certificates and highly qualified personnel make it possible to operate at any location on a 24/7/365 basis.
SKYPRO TECHNICS has extensive maintenance experience. Pilatus certified service center is already successfully operating on Dobrograd airfield (UUIG). The company has a spare parts warehouse and a staff of highly qualified engineers who regularly confirm and improve their skills in certified European training centers.
The new maintenance center in Domodedovo will provide aircraft maintenance and airworthiness services: scheduled and urgent maintenance, AOG support, and spare parts deliveries.
The UTG PA Business Aviation Center at Moscow Domodedovo Airport operates a complex consisting of a 770 sq. m VIP passenger terminal, three hangars for business aircraft with a total area of 8,000 sq. m, and provides a full range of ground handling services. Extensive apron space allows further infrastructure development, particularly by increasing the number of provided services.
Today, the whole FBO is under renovation. It is to be finished by the end of 2022. This summer, the terminal's ground floor interior is already completed. The business aviation apron was also completely renovated.
The company has already started the next stage of reconstruction, which includes expanding the first floor of the terminal, renovation of the second floor, and a comprehensive improvement of the surrounding area. UTG PA also plans to open its own helipad at the UTG PA Business Aviation Center.
FBO in Domodedovo serves not only business aviation clients. Commercial flights passengers can also use its services and enjoy comfortable transfers from a regular flight to a business jet using the VIP terminal.
UTG PA was founded in 2021 and is part of the UTG Group. The group of companies was established in 1998. Today, it is the biggest independent provider of technical and ground handling services in Russia, with subdivisions at Vnukovo, Domodedovo, and Pulkovo airports.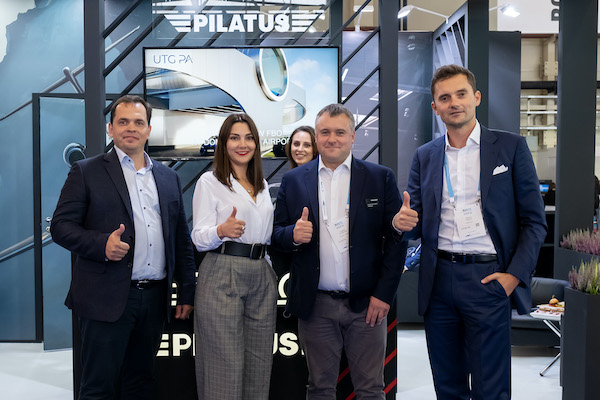 UTG Group strives to meet the highest international standards of corporate governance and transparency. It ranks among the top 20 largest companies in the Russian aviation industry.