S7 Technics specialists were the first in Russia who have released sets of stickers in Braille, which will be used to equip the cabins of aircraft of Russian airlines.
In accordance with the Order of the Ministry of Transport No. 290 dated 02.08.2018, which sets out the requirements of the Rosaviatsia for aircraft purchased on the basis of contracts concluded after January 1, 2020 by operators carrying out commercial passenger transportation. According to these requirements, the rows of passenger seats and the doors of toilet rooms in the cabin of aircraft must be marked with tactile markings.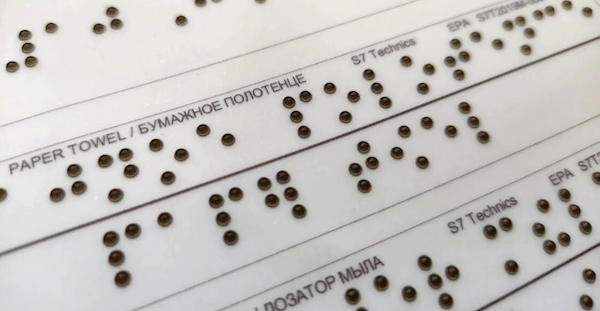 Most of the time in the stickers production cycle is spent on the development and preparation of engineering and technical documentation, this is done by the S7 Technics design bureau at Novosibirsk. The stickers are printed on a special film approved by the aircraft manufacturers Boeing and Airbus using a piezoelectric spray method. On average, there are about 160 stickers per aircraft.
"We have been carried out a lot of tests on the manufacture of labels to withstand a certain height, diameter and distance between font elements in accordance with the requirements of Government Standard. As a result, the most optimal technological process for the production of stickers was found, and good tactile readability of the font was ensured" said Konstantin Demin, process engineer for the repair and restoration of aircraft interior products.
The production of Braille stickers is also planned to be launched at the Novosibirsk base of S7 Technics, now the necessary equipment is being purchased for this.
Thanks to the new S7 Technics product, aircraft cabins will become more comfortable for visually impaired passengers.