Time to time we are looking at different market trends, to see the development and what market demands. Do you think there are trends in destinations for business jet maintenance? Is it even possible. Obviously it is. Destination for jet maintenance mean a lot of factors each operator or owner has to analyze in order to choose the best. It means how long you need to wait to get to the maintenance, travel arrangements, requested services availability and many many many others. It seams that there are many jets from different countries are queueing outside to be taken care of too.
Lithuania and professional mechanics in Vilnius' hangars has become a very popular destination for private jet maintenance in Europe. There are countries around the continent, where companies offering such services are operating, including Switzerland, Poland, Germany, etc. However, Vilnius, the capital of Lithuania seems to be a more convenient option. The location is easily accessible and provides good value for money.
Working in aviation is not an easily achievable goal in Lithuania. Engineers and mechanics all have certificates, often – even the dual ones. They are trained well and encouraged to gain a wide-spectrum of knowledge, many years of experience and to develop extraordinary skills before they are high-level professionals able to work with such big and complex creations.
Although there's only one company offering private and business jet maintenance in Vilnius, it is truly competent. Jet Maintenance Solutions is a global provider of integrated aircraft maintenance, repair and overhaul solutions for business and regional aviation. Offering both, base and line maintenance, JET MS can serve Hawker Beechcraft 700/800/800XP/850XP/900XP/750, Bombardier CRJ 100/200/440, Bombardier Challenger 604/605/850 and Bombardier Global 5000/6000 aircraft. In addition, the company provides spare parts supply, logistics, aircraft conversion, aircraft painting, cabin refurbishment, modification and engine management solutions for a wide range of other business and regional jets. Operating through these eight key divisions, JET MS is capable of meeting specific needs of the most demanding customers.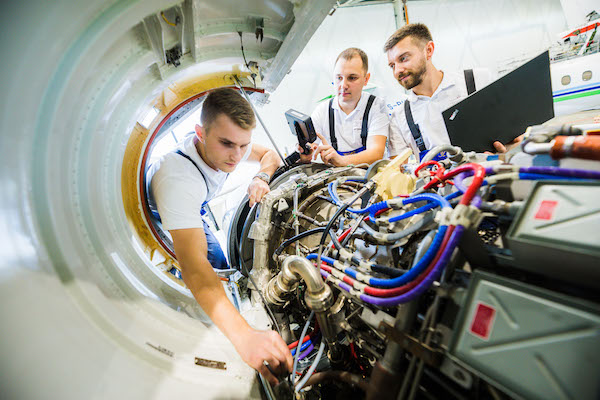 The company is an authorized dealer of Collins Aerospace as well as the first service centre in Eastern Europe, authorized to provide warranty support for TRONAIR's ground support equipment (GSE). Moreover, in the end of 2019, Honeywell has appointed JET MS as their newest channel partner in Central Europe. It will now be an authorized Honeywell services centre for avionics, as well as a Line Maintenance station for the TFE731 engine and Honeywell's family of business aviation auxiliary power units, including the 36-100/150 RE100 and RE220 series APUs. Certified as an EASA Part-145 organization, JET MS serves business aircraft, registered in the Russian Federation, Belarus, Turkmenistan, Kazakhstan, Lebanon, Ukraine, Nigeria Bailiwick of Guernsey, Bermuda and the Cayman Islands. JET MS is also included in Aero-Dienst and ACC COLUMBIA suppliers' list, therefore even the competitors makes purchases from them.
What differentiates Jet Maintenance Solutions from its competitors is its experience with big companies, logistics services and the fact that it is a business aviation company. It is the only and the most hard-working, therefore the best jet maintenance provider in the area, what makes Vilnius a perfect destination for that. Easy access, less confusion, professionalism and great quality of services are guaranteed.