A P2012 Traveller in Airline configuration flew from Capua, Italy, to Siegerland, Germany, on last April 14th as a demo aircraft dedicated to Air Alliance customers in the German and Austrian market. The P2012 is the first turbocharged twin piston aircraft in Air Alliance portfolio and it will join their offer of Jets and Turbo Props of other established brands on the market. With the TECNAM P2012 Air Alliance will benefit of its unique characteristics, enlarging and enriching its offer, to the potential customers in the region.

Comfortably accommodating nine passengers with one or two crew members, the Traveller is a new-generation, piston-powered, twin-engine, high-wing, fixed-landing-gear aircraft. The P2012 provides a cost-effective solution with varied configuration options, whilst always offering a travel experience that exceeds the category standard with features like air-conditioning, in-seat power, wide leg room, separated in-fuselage cargo hold, and under-seat storage space.

Cutting-edge avionics by Garmin offers pilots all the information they require for day and night operations in VFR, IFR and PBN; the "SPACE" cockpit, based on the proven G1000 NXi has been specifically designed to reduce pilot workload, for a safer and smarter mission accomplishment. For all these features the aircraft can be operated by a Single Pilot and in all-weather conditions including Flight In Known Icing (FIKI).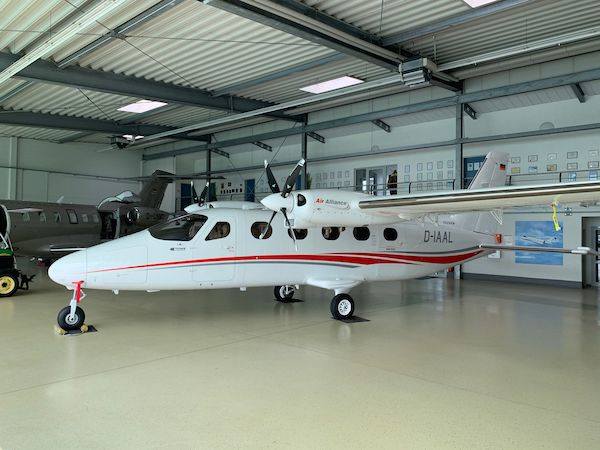 The P2012 series offers also Combi, Air Ambulance and parachute jumpingaircraft variants, plus dedicated Special Mission and Full Cargo versions.

"Air Alliance, with its great experience in this market, it is a natural fit to provide German and Austrian customers with the support they need.", said Walter Da Costa, TECNAM Chief Sales Officer. "This partnership is also the first step in building a special focused worldwide sales network to provide P2012's potential customers and operators the highest level of service, as Air Alliance is ensuring in Germany and Austria."

"A well-equipped brand new P2012 Traveller is now in our showroom at Siegerland Airport and available there for demo flights at any time.", said René Petersen – AIR ALLIANCE CEO. "I could not miss the opportunity to personally fly our P2012 Traveller from the factory in Capua to the Air Alliance headquarters in Germany. Once again, everything confirmed that it was the right choice for Air Alliance to start the sales partnership with Tecnam."

Good service in General and Business Aviation has been the passion of Air Alliance GmbH for more than 25 years. Starting with a small maintenance company, Air Alliance has developed to a modern aviation service provider in General and Business Aviation. Today, Air Alliance occupies outstanding positions in its markets with the business areas of aircraft maintenance, sales of new and used aircraft, aircraft operations (air ambulance, passenger and cargo) and flight schools.
Air Alliance Group has its headquarters in Burbach at Siegerland Airport (EDGS / SGE), a further base at the airport of Cologne and an affiliated Ltd. in the UK. With 135 highly skilled staff in the entire Group, Air Alliance is dedicated to support clients.
https://air-alliance.de/