At this week's International Paris Air Show, Daher is showcasing the TBM 910 – the latest member of its TBM very fast turboprop aircraft family – for use in rapid and efficient air taxi service.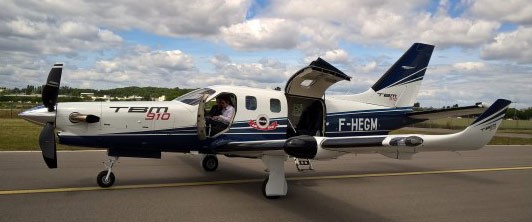 This focus comes after Europe's recent approval of commercial operations with pressurized single-engine turboprop aircraft in instrument meteorological conditions (IMC) and at night, reflecting the growing acceptance of such operations worldwide.

"Our new TBM 910 version – as well as the other TBM-series aircraft – is seeing increased interest of commercial operators for its unmatched performance-to-cost ratio," commented Nicolas Chabbert, Senior Vice President of the Daher Airplane Business Unit. "This is opening new business opportunities beyond the well-established TBM user base of pilot-owners and corporate flight departments."

He added the TBM 910 benefits from the same range and performance that have contributed to the success of Daher's TBM 900-series six-passenger pressurized single-engine turboprop aircraft, which also benefits from such technical features as the TBM e-copilot® for lower pilot workload.

The main difference from the predecessor TBM 900 version is the TBM 910's new Garmin G1000 NXi all-glass integrated flight deck, which replaces the previous G1000 configuration. Garmin's G1000 NXi combines high-resolution display design with state-of-the-art processors. These improvements provide a faster boot-up and software loading, while enabling the system to manage more aviation data and maps (such as visual approach plates).

Other advantages are the enhanced situational awareness and improved cockpit connectivity that allow wireless transfer of aviation databases from the Garmin Pilot app on a mobile device to the G1000 NXi system. Additionally, an enriched "feel" with the flight deck's new keyboard joystick gives more accurate panning and fluid navigation on the multi-function display pages.

The TBM 910 also features cabin interior enhancements with new seat shapes and additional fittings, which are identical to the high-end TBM 930 version. Additionally, the TBM 910 can accommodate the "Elite Privacy" compartment – a quick-change option that integrates a lavatory area in the aircraft's aft fuselage.