Have you thought about the emotional part of very important choice? For example, how people are choosing their future private jet? It is obvious there are a lot of factors: budget, operational costs, destinations to fly etc. But how important is the emotional, less rational perception of the aircraft?
My personal opinion – small details can make my choice. So please, let me share the detail that made my EBACE 2019 quite amazing.
Dassault Falcon 6X. As we were informing, Dassault frozen the 6X design, first aircraft to be assembled early 2020. We had a chance to have a guided visit of the Mockup, but I have to tell you that the impression was more than real.
What was the detail that amazed me personally – the sky dome. I can count stars during the flight. It quite amazing! You may say It is a detail, I do agree, but it is exactly the part of emotional decision making that counts for me.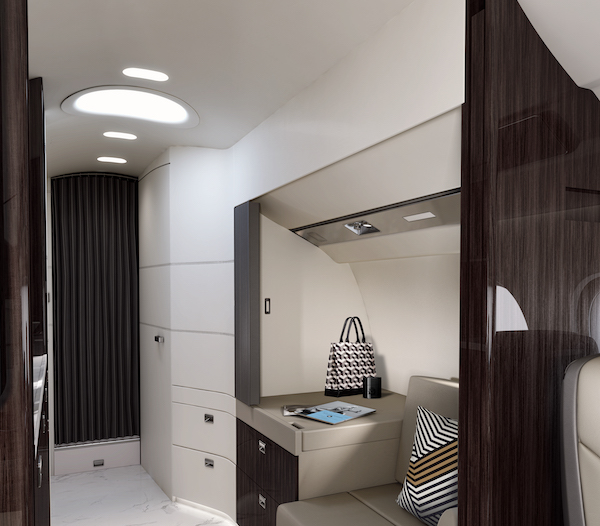 We had a chance to discuss latest updates with Mr. Vadim Feldzer, Head of Global Communications, Dassault Falcon.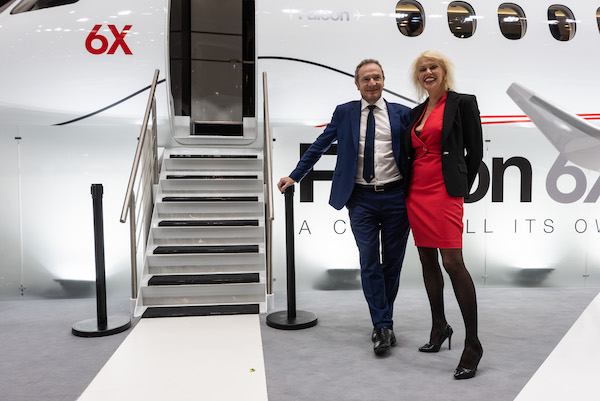 "Dassault Falcon 6X will be an exceptional aircraft. You can fly directly from Los Angeles to London, Sao Paulo to Chicago. To reduce the impact of turbulence there are ultra-efficient wings, next generation flight control system called a flaperon. It improves control during approach.
Our experience with Falcon 8X allows us to offer industry-leading noise suppression systems. Of course, Falcon 6X will be delivered with our FalconEye Combined Vision System."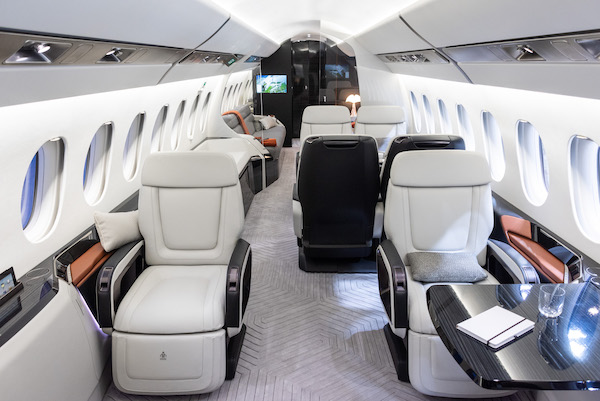 Q. Can you give us your opinion on sustainable fuel initiative? As we know Dassault were flying from Farnborough to EBACE event on alternative fuel?
A. Yes, we think it is really important to start doing things now, in order to contribute to sustainability of aviation industry. It was a must be for us to be a part of EU Sustainable Energy Week, as declared to share the EU Energy Future. There is a long way to go, a lot of efforts needed from all industry actors, manufacturers, airports, fueling companies, clients. But we have to go, we have to make steps forward, if not, nothing will change, nothing will really happen. It a huge challenge. Let me give you a small example. Even if we want to fly from Le Bourget airport using alternative jet fuel, there is a logistic problem: you have to fly first to Caen Carpiquet airport, the only one in France offering that fuel right now. So, as you see, the infrastructure is far from being ready even if we would start today. As manufacturer, we are more than glad to support the sustainable aviation fuel. It is important to produce up to 80 percent fewer emissions. The issue is that all the industry actors have to follow this initiative now in order to move forward with necessary development.
Q. What would you say regarding aircraft market trends? Are you happy with the actual situation for Dassault Falcons?
A. Yes. The market is stabilizing after all troubles. We are analyzing it and always have a close look to all trends, it allows us to give the best necessary for our clients. Let's say that the market is healthy and good enough. We see the improvement on the preowned market, it is great for us. We are happy to see our aircraft fly.
Thank you, Mr. Feldzer, as well as the team of Dassault Communication, it was a real pleasure to discover the "haute-couture" of aircraft manufacturing!
I invite everyone interested to see amazing Falcon aircraft of Dassault to use the opportunity and take a closer look during Paris International Air Show.