Irkut Corporation summarized the preliminary results of MC-21-300 aircraft ground testing, which confirmed the possibility of operating the aircraft in presence of water on runway. During the period from 16 to 22 July 2020, the MC-21-300 aircraft performed 29 runs and 3 taxing on water at speeds from 10 to 150 knots (1 knots = 1.852 km/hour) at various configurations of mechanization and power plant modes, including the use of engines thrust reversal.
The tests were carried out on the "Ulyanovsk-Vostochny" airfield, where the "pool" of more than 70 m long and more than 20 m wide was mounted. Parameters of the "pool" provided a normalized water depth in accordance with Russian and international requirements, which are established for these types of tests.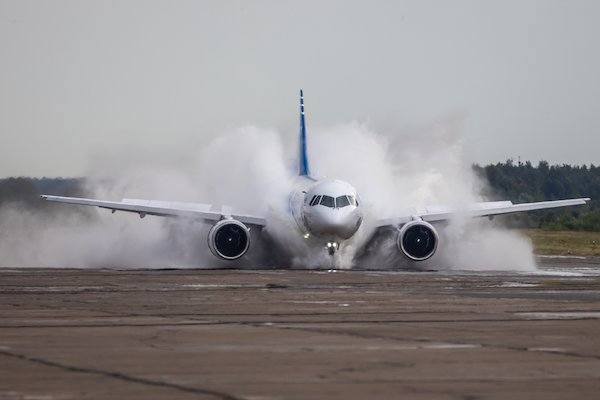 In the process of testing the possibility of safe movement on a wet runway in a wide range of speeds without any failure of marching and auxiliary power plants, as well as other systems and equipment of the aircraft were confirmed.
In addition, the tests found that the MC-21-300 aircraft is steadily moving and retains control on the runway covered with water.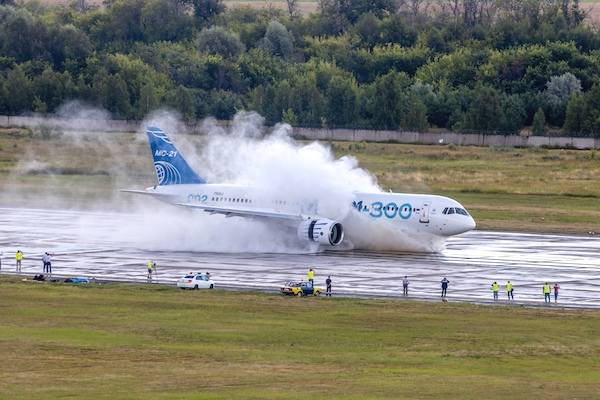 The course of testing was recorded by a complex of onboard measurements of the aircraft and a system of video cameras installed on the ground and on the aircraft.
The tests were conducted as part of the MC-21-300 aircraft certification program with the participation of representatives of authorized certification centers.