After a massive development commitment, kicked off back in 2019, Diamond Aircraft received its EASA Supplemental Type Certificate STC 62-002, EASA Reference Number 10073494 REV. 2. This Major Change is a direct result from an intensive market research where Diamond collected and analyzed feedback from DA42 MPP operators around the globe. Diamond's Special Mission design team goal was to implement a new seating configuration which provides the operator in the rear seat with an increased eye-to-screen distance as well as a more comfortable seating position.
Details on STC 62-002:
The first passenger row is replaced by two individual DA62 co-pilot seats.
The seats are moved rearward by 5 cm, increasing space between the pilot row and the passenger row.
Improved comfort, utilizing two individual seats in lieu of an integrated three seat bench (the adjustable backrest has been retained for additional flexibility comfort).
An alternative to the previously offered cabin configurations.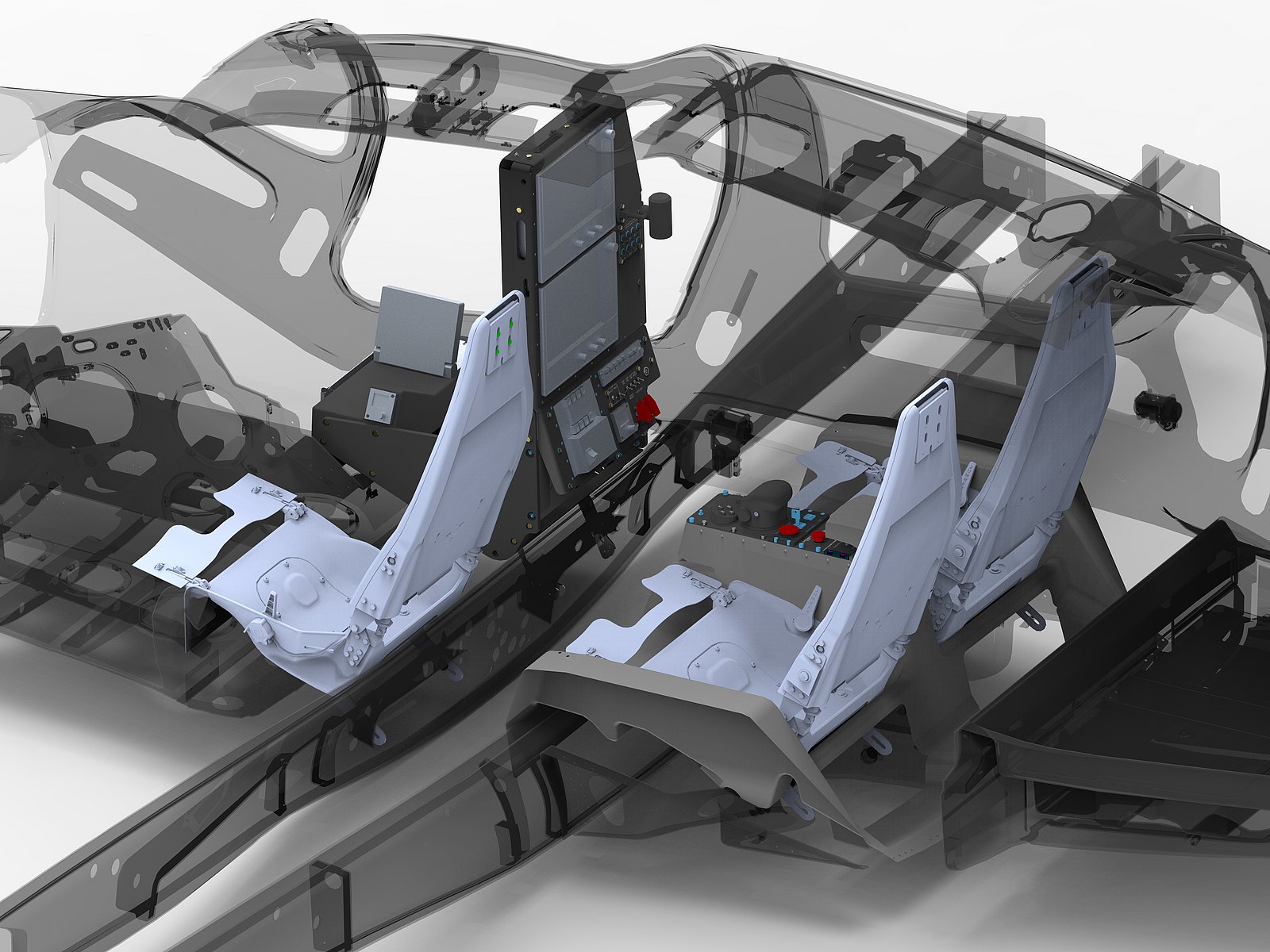 The first aircraft that incorporates STC 62-002 will be delivered by the end of the year to GeoFly GmbH, the launch customer ofthe new DA62 SurveyStar.
Another cross-selling benefit of this design affects the standard DA62 (non-MPP). While the 2nd passenger row remains as the standard seating configuration, the aircraft can now be optioned as a "Business Class" configuration. This new layout provides two captain´s seats with a center console between them, creating a more spacious and luxurious in-cabin experience.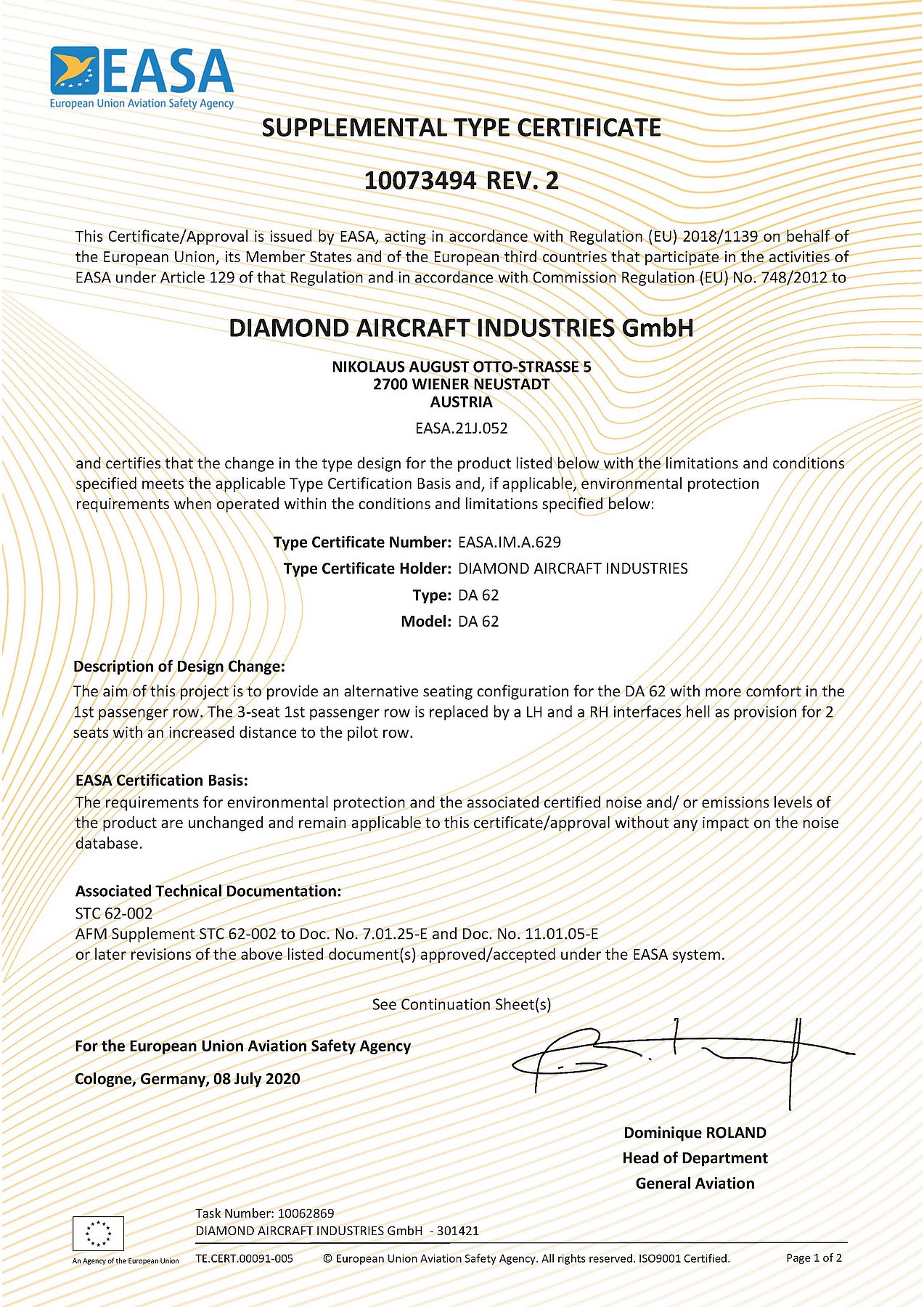 "We understood the requirement from the market very well and changed the design in a way to exactly meet those market expectations. I was personally surprised about the space in the new operator cabin design. This configuration and new set-up definitely change the comfort and handling of Diamond's operators regarding a more sophisticated office", says Markus Fischer, Director Special Mission Aircraft Division.
"The DA62 MPP was released as a platform to improve usable payload and operator space as compared to the DA42 MPP. This mindset is expanded with the additional implementation of the Single Seat configuration to further improve operator comfort and space for mission equipment. The setback seating position allows better viewing angles to operator displays and increases legroom to accommodate a co-pilot seat in the passenger row. This seat features not only an adjustable backrest, but also a lumbar support and upper leg support, all reducing operator fatigue during long endurance missions. This configuration is the next evolution enhancement to the already superb DA62 MPP aircraft", says a Diamond Operator, Special Mission Aircraft Division.
"When the MPP was introduced to us as a potential survey platform, it was still equipped with the passenger row. This was a concern from the beginning and we were really curious how that should work out in a survey setup and what adjustments could be made. The single seat STC as it is now, is a very good compromise. It is surprisingly comfortable and still offers a good flexibility and room to handle the sensor system installed in the plane. We are looking forward getting operational with our new DA62 SurveyStar", says Aicke Damrau, Managing Director GeoFly GmbH.