AVIC Cabin Systems (ACS) is celebrating an expanding of successes and recognition across the airline industry.
Two of the brands within the ACS group have had projects shortlisted for the 2021 Crystal Cabin Awards: FACC has been shortlisted for LAV4ALL, a completely barrier-free lavatory for passengers with reduced mobility; Thompson Aero Seating has been shortlisted for its VantageSOLO, a seat offering a fully horizontal flat-bed from only a 33" pitch, with direct aisle access for every seat. Both items are aimed at long-range, single-aisle aircraft. Shortly before FACC and Thompson Aero were made aware of their advancement to the next round of the awards, AIM Altitude had taken part as a finalist in the 2020/21 Crystal Cabin Awards with ARCA, its galley innovation for space-efficiency, sustainability, and hygiene.
Andy Morris, VP Commercial at AVIC Cabin Systems, said: "These most recent achievements of three of the brands working together under the ACS banner are evidence of the group's lead in the commercial aircraft cabin market. As individual brands, each company within ACS has its own hugely successful track record; as an alliance, our interconnection of skills and expertise takes us to new levels of possibilities covering every aspect of the cabin."
LAV4ALL
Developed by FACC, LAV4ALL is a 100 percent barrier-free aircraft lavatory for retrofitting, which offers more internal space, while outside dimensions remain unchanged, and has thus set another important milestone in addressing the comfort, hygiene and well-being of all passengers, including those with special needs.
LAV4ALL offers improved accessibility, increased space, and enhanced ease of use to people with reduced mobility or other impairments such as poor eyesight or hearing difficulties, thus making assistance unnecessary. One new feature is the door opening at a right angle, which blocks the view from the cabin and affords greater privacy. As soon as the LAV4ALL door is closed, the galley can be entered again and does not need to be blocked
for as long as the lavatory is occupied. Furthermore, the new lavatory solution features additional and colour-highlighted supports and handles, an optimisation of sink mechanism, hygienic surfaces, various touchless options and a seamless design. LAV4ALL substantially increases the travel comfort of passengers with reduced mobility and significantly contributes to improving the privacy and dignity of passengers.
Visit: https://www.lav4all.facc.com/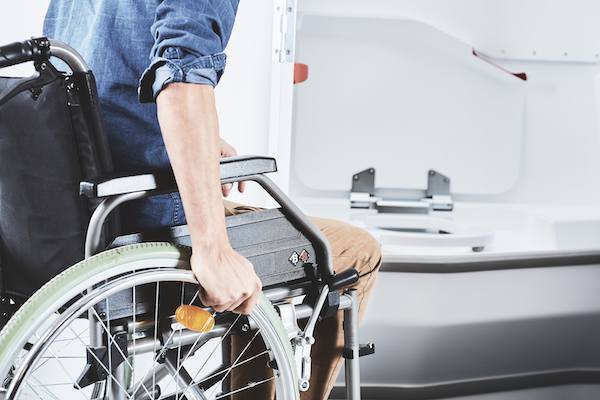 VantageSOLO
Developed by Thompson Aero Seating specifically for medium- to long-range narrow- body aircraft, the VantageSOLO converts to a fully horizontal flat-bed with direct aisle
access for every seat, offering a business-class seating experience normally the reserve of a wide-body cabin. Fitted with a fixed privacy screen or full function suite door as well, the VantageSOLO is quite simply a revolution in single-aisle seating. From a 33" pitch, the seat, positioned against the window, offers unrestricted views, increased foot space, and easy access to window blinds
Clever integration between the seat and front-row monuments can allow for 27" monitors, extended soft side-furniture, an additional large pull-out work surface, multiple working/relaxing positions and dual occupancy/dining. Without any LOPA penalty over the standard full business-class arrangement, the VantageSOLO effectively allows first class for the price of business class.
Visit https://www.vantagesolo.thompsonaero.com/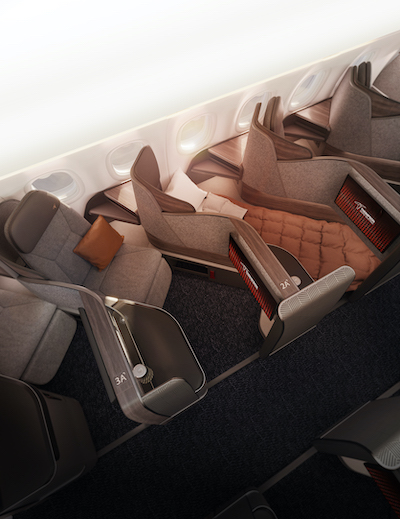 ARCA
Created by AIM Altitude, ARCA is an amazingly efficient galley system that gives back space to airlines whilst offering enhanced sustainability and hygiene. The ARCA galley system redefines the interior layout of future aircraft service areas. The design uses a new, stacking meal-service system that increases space efficiency and facilitates a reduction in the galley footprint, enough to allow for an extra row of seats or a monument feature.
ARCA also introduces a new hygienic boxed-meal system for chilled and hot food instead of set-meal trays. The pack is stackable and has a much smaller footprint than a tray. The meal boxes can be produced in an environmentally friendly manner using the latest eco-materials. Meals are stored in an aesthetically pleasing, refrigerated aisle-stowage unit. Boxed as 16 nests of sealed, chilled and hot servings the meals can be easily moved onto a folding trolley for meal service. The crew no longer has to handle open meal trays. After the meal, the carrier boxes are repurposed into waste containers for recycling and separate compacting.
ARCA's architecture seamlessly integrates into the existing airframe, and central crew areas are easily configured so familiarity and efficiency are not compromised. Common inserts such as ovens, coffee makers and water boilers can still be used.
Visit https://www.aimaltitude.com/arca/
Andy Morris concludes: "It's very encouraging to see that the decision to continue investing in our future innovation during the pandemic has resulted in the three ACS brands being recognised and shortlisted by the CCA. We remain fully confident that our latest aircraft interior concepts will continue to develop and evolve, ultimately improving the well-being and comfort of passengers and crew alike".