Geneva Airpark has reached a new milestone by obtaining the PART-145 line maintenance certification and is offering new technical services for business jets at Geneva airport.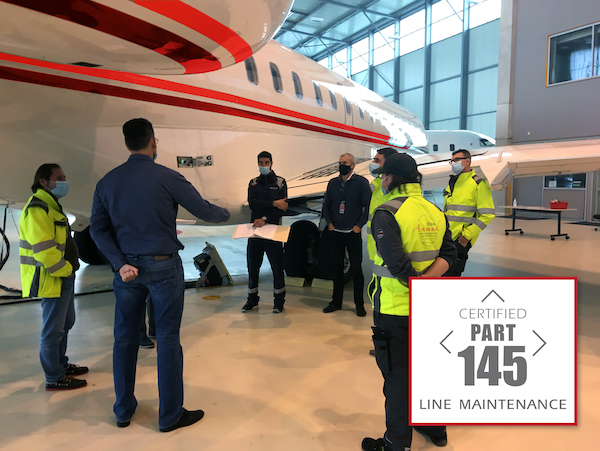 The Geneva Airpark team is proud to announce that it has obtained PART-145 line maintenance certification to expand technical services within its hangar for several types of business jets, from manufacturers Bombardier, Gulfstream or Dassault.
Geneva Airpark benefits from PART-145 European certification, issued by the Federal Office of Civil Aviation (FOCA) in Switzerland, since August 2020. This approval is necessary to:
Provide line maintenance services for business jets within Geneva Airpark's infrastructure.
Guarantee the interventions comply with manufacturer's manuals.
Maintain the validity of each aircraft's airworthiness certificate.
The services are carried out within the Geneva Airpark hangar by in-house technical teams specially trained for each type of business jet, and will continue to develop to provide a comprehensive range.
Tire pressure
Oxygen service
Fuel drain…
The capacity of the Geneva Airpark hangar (10,000 sq meters) is perfectly suited to line maintenance operations, alongside short, medium or long-term hangaring for the planes.
For more details about our new line maintenance services, call +41 (0)22 939 16 00 or email [email protected]