Milan Linate Airport will be closed for three months from July, so the traffic will be diverted to Lugano Airport.
For ExecuJet FBO it is the time to get ready to handle a record number of movements in southern Switzerland this summer. Back in december, we were writing about the partnership signed between Luxaviation Group and Lugano Airport for he launch of a co-branded facility.
And now the "tasty" important thing to know travelling to Lugano Airport!
To ensure customers travelling to the region are unaffected by the closure of Milan Linate Airport during Europe's peak summer season, ExecuJet is offering a 50% discount on handling tariffs for flights to Lugano Airport, with no slot restrictions. In addition to that, Luxaviation Group also offers all its services out of its branch in the centre of Lugano to cater to the local clientele in an efficient and tailormade way.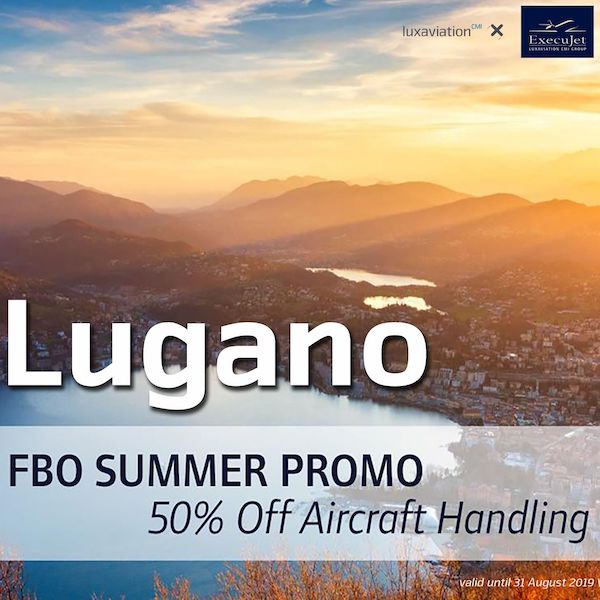 Some comments from Luxaviation Group newly appointed FBO Business Development Executive, Gary Forster: "Our FBO at Lugano Airport is ideally located for travellers who might be affected by the closure of Milan Linate Airport this summer. Situated in the Italian-speaking canton of Ticino in Switzerland, bordering Italy, it's just 40 minutes by car from central Milan. Alternatively, we offer fast-track helicopter transfers directly from the airfield. Facing this situation our goal is to increase our footprint in Ticino and northern Italy together with the local Luxaviation branch in Lugano. As FBO Business Development Executive for the Luxaviation Group, I've recognised the importance of understanding market forces in each region where we operate and responding in an appropriate way, to ensure our customers aren't negatively affected. This means making every part of our operations as smooth and seamless as possible. To help facilitate the anticipated spike in movements from July, Lugano Airport has launched a new website, with guidance for pilots and crews on navigating the steep take-off and landings required by the airport's mountainous surroundings."
Ettore Poggi, Group FBO Director, Luxaviation Group, adds: "We're dedicated to providing the highest standards of safety and service at each of our 28 FBOs worldwide, and the strategically located Lugano Airport is no exception. We're looking forward to welcoming a record number of customers to our beautiful FBO in southern Switzerland this summer."