Not many industries sound as intriguing and attractive as aviation. Working in aviation has an undeniable charm and entices many talented professionals to start their careers in the aviation industry. Over his impressive 30-year-long career in aviation, Kjell Mathisen, Corporate Training Manager at aviation services provider Aviator, has had many opportunities to make sure of that. Today, the experienced aviation professional shares 6 reasons why he and his colleagues believe working at an airport is an amazing choice for many individuals.
A plethora of choices
"At an airport, there's a position for every kind of person. From customer services to ramp agents to engineering to communications. No matter your field of expertise, you can find a job that fits your skills perfectly. While the airport is a singular location, it has many different options to choose from."
No to routine
"It's not a myth that working at an airport you never face two similar days, and this keeps work interesting. We are faced with different challenges, opportunities, people every day, so this location is ideal for those who shy away from mundane tasks and predictable shifts."
And talking about people…
"Airport is probably one of the best places to work for those who crave meeting new people. You will come in contact with a broad and diverse range of people daily. So if you find different cultures around the world interesting, the airport is the place for you. People working with passengers joke that after working at an airport they can have a conversation with basically anyone, regardless of their language – there are always gestures and drawings!"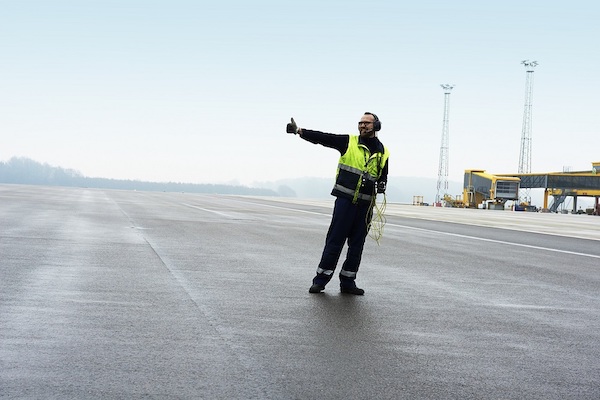 Driven colleagues
"It's not a surprise that such a dynamic and fast-paced place attracts equally as lively and active people. Over the years, I have worked with some of the most driven, goal-oriented, talented people out there. I was lucky to meet people from all walks of life and for that, I am deeply thankful. Working in aviation, at an airport, is like joining a family, driven by the same fascination and interest in the industry and its possibilities."
Machinery like no other
"Tech-driven individuals will often find airports to be incredible. Some of the machinery and equipment used by airport personnel are not used in any other industries apart from aviation. Thus working here might involve operating unique, interesting and unusual machines. For example, Hi-loaders and belt-loaders that are used to load the aircraft, de-icing vehicles, push-back trucks, etc."
Self-development and career opportunities
"Aviation is an outstanding teacher. You learn something new every day, as there is a new challenge almost all the time. From technical skills required for your position to more general qualities like communication, patience, thinking on your feet, problem-solving and a variety of other soft skills. You will be trained by skilled and passionate trainers to the highest safety standard.
You'll learn how each individual role has importance and is part of a functioning airport ecosystem. Your career in aviation starts here, and there are numerous opportunities for you."
Why is working at an airport so fascinating?
"The airport is not just a location, it is more like a community. A very dynamic and complex place where every nut and bolt matters in order to create a thriving environment.
There's an old saying that 'once you get the smell of jet fuel, you'll never leave the airport.' And I believe that. Working in aviation is more than just a job. It's a lifestyle."